Remodel Saint Cloud MN: Choosing the Right Contractor—
If you want your home remodeling project to be a success, it's essential to find a central MN General Contractor who speaks your language.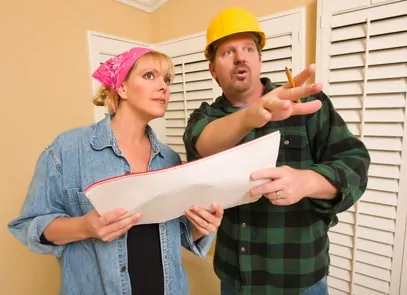 While some contractors begin projects with specific ideas and elaborate plans, a great contractor will be willing to listen to your thoughts and will work to make sure that he understands what you want.
Remodeling is an exciting time for many homeowners, but the process can turn stressful quickly if you feel like your contractor isn't listening to what you have to say. Before choosing a contractor, make sure the person you've chosen has full respect for your ideas, an understanding of your vision, and the drive and commitment to finding solutions.
Choosing the Right Contractor for Your Remodel
Full Respect for Your Ideas
Many homeowners choose to remodel without knowing very much about the process. However, that doesn't mean that your ideas and opinions have any less validity. It's important to know that the contractor you choose will listen carefully to what you want and work to make it happen.
When you begin choosing a contractor, ask potential candidates how they handle input from their customers. Some contractors prefer to get approval at the project's start and do little to communicate with clients throughout remodeling. However, a great contractor will maintain communication throughout the project in order to make sure that you're satisfied with each new step.
An Understanding of Your Vision
Whether you have a carefully-designed dream in mind or the outline of a general vision, make sure your contractor understands what you want. As you begin choosing a contractor, explain your ideas to potential candidates. By asking each contractor how he or she would go about implementing your request, you can get a clear idea of how well the contractor understands your needs.
The best contractor in the world won't be able to satisfy you if he doesn't understand the look you're hoping to achieve. After you've explained your vision to the contractor, you can also ask to see examples of similar work he's done in the past. Examples allow you to see the quality of the contractor's work and also helps you see what approach he might take to your home.
The Drive and Commitment to Find Solutions
Even the most well-planned remodels don't always run smoothly. Unexpected surprises and unplanned problems often arise, but you can soften the blow by choosing a contractor who has the drive and commitment to finding solutions. Though some contractors may be disheartened to discover hidden damage under flooring or behind walls, an experienced contractor understands that surprises are part of the remodeling process.
When you work with a reliable Saint Cloud MN General Contractor, you can count on him or her to remain committed to your project throughout the ups and downs. If there's a problem, a reliable contractor will continue working until a solution that fits your budget and your family's needs are found. While you can't plan ahead for everything that will come up during a remodel, you can prepare for nearly anything by working with a contractor who speaks your language.
Craig at Schoenberg Construction is one of the best General Contractors & Remodeling Experts in St Cloud MN. Craig always gives honest, fair bids with no lowball, fake pricing. He never uses cheap materials and never engages in sloppy workmanship, and his company is known as one of the top construction companies in the St Cloud MN area because he INSISTS on doing every job EXACTLY right.
Give him a call today at 320-252-0911 for your no-obligation consultation. There's no sales pressure, EVER!