Contemporary Prairie Home, Avon MN— Situated on 40 acres between an old growth forest and a newly restored prairie, the Avon House is comprised of a cluster of low buildings which semi-enclose a courtyard.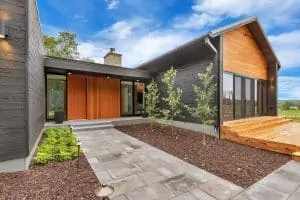 With a contemporary feel, Scandinavian aesthetic, and modern technology, this 3,300 square foot, 3-bedroom, 3-bathroom home features:
Traditional Japanese charred cypress wood siding with douglas fir accents
Stunning great room with a board-formed concrete fireplace and vaulted timber structure
Sustainable kitchen and whole home cabinetry solutions that accentuates the home's architecture
Private master suite with a custom closet
Master bathroom with free-standing tub and walk-in shower
Geothermal heating
Additional features include standing seam metal roof, LED lighting, "Energy-Star" appliances, "Water Sense" fixtures, dual flush toilets, low VOC paint finishes, scratch resistance ceramic countertops, solar window shades, and white oak flooring with water-based finish.
Schoenberg Construction's
2018 CMBA Tour Home Photos
We hope you enjoy viewing the following photos of our Tour home. The Avon home is a truly magnificent house and it was our great honor to build it.