Basement Finish Before and After Photos— Finishing a basement is so exciting because it turns a dark, drab, dreary space into a light, fun, fully functional one. Take a look at these before and after basement finish photos to get an idea of how our home remodeling services can turn your unfinished basement into a beautiful, bright living space. What an improvement!
Basement Finishing After and Before Pics
More Basement Finishing Photos
In the photos below you can see how a basement finishing project turned this space into a bright, lovely place to spend time watching TV or hanging out with the family.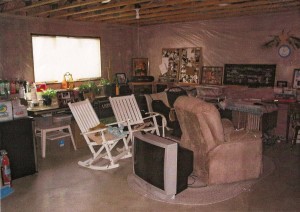 Basement Finishing with Your Local, Established and Trusted Saint Cloud MN General Contractor
Are you looking for an affordable, cost-effective way to increase your home's value? It could be a great time to consider finishing your basement and adding to your property's livable space. Finished basements are one of the most popular features that buyers are looking for, and they will also add to your family's quality of life in the years before you decide to sell. Consider these five important ways that hiring a St. Cloud contractor to finish your family's basement can increase the value of your home.
1. Get More Livable Space
2. Add Appeal to Your Property
3. Stay Competitive with Other Homes on the Market
4. Install an Extra Bedroom or Bathroom
5. Address Other Problems at the Same Time
If the time has come to have your basement professional finished, we can help. You see, we know you want to know exactly what you'll get for your money and at Schoenberg Construction we are happy to tell you by offering you specific, accurate pricing that fulfills your vision at a price that works for you. We value honesty, integrity, trust, and customer satisfaction and proudly pass these core values on to every one of our clients.
Are you looking to hire a basement finishing contractor in the St Cloud MN area? If so, you need to know that Craig Schoenberg — owner of Schoenberg Construction, Inc of Saint Cloud MN — is one of the best Home Improvement, Remodeling, and General Contractors in Saint Cloud and Central MN. He always gives honest, fair bids with no lowball, fake pricing, and there's no sales pressure, ever! He always uses quality materials and never engages in sloppy workmanship. Plus, his company is known as one of the very best construction and remodeling companies in town.
Give Craig a call today at 320-252-0911 for your no-obligation consultation.
Why Work With Schoenberg Construction
What We Value
Honesty
Integrity
Trust
Satisfaction
What We Do
Specific, Accurate Pricing
Highly Skilled Carpenters
Reliable, Skilled, and Valued Subcontractors
Top, Quality Materials
Unbeatable Customer Service
What You Get
75+ Years of Combined Custom Construction Experience
The Project of Your Dreams for the Price You Were Promised