Finishing Your Basement: Top Design Questions to Consider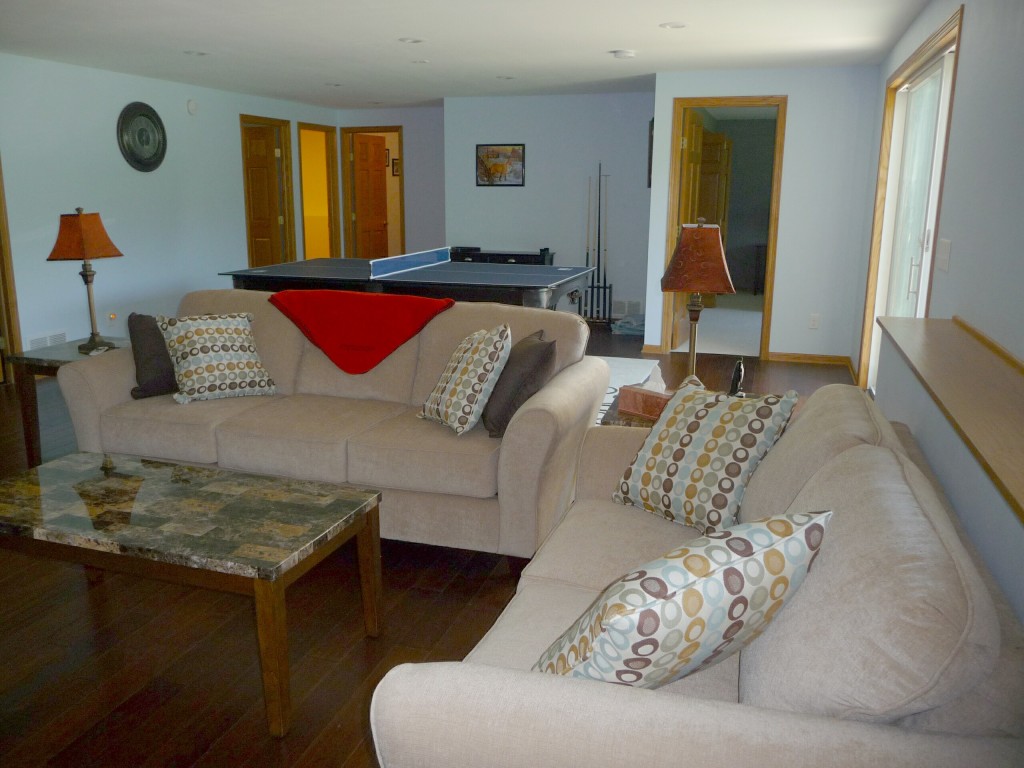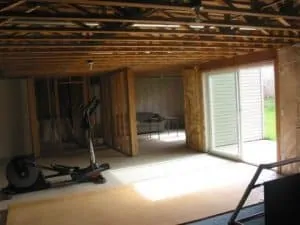 View more photos of this beautiful basement finishing project.
Benefits of Hiring Basement Finishing Contractor, Craig Schoenberg
Your satisfaction is our top priority at Schoenberg Construction. Whether you're interested in building an entertainment room or a complete home office, we'll work closely with you to realize a fully finished basement that adds function, style, and value to your home.
Many families miss out on the opportunities for additional living space available in their basements. Whether your basement is being used for storage or is full of empty space, you could be using the room to entertain guests, exercise, or work from home. Our contractors can help you realize the potential of your basement by finishing your walls and floors, building new structures, and creating a comfortable, appealing design.
Once you've chosen a primary function for your new basement, we'll help you create a layout plan and determine which new features need to be built. While a finished basement may present more upfront costs than a renovation in another room, you'll enjoy a higher return on your investment. The increase in livable space substantially improves your family's quality of life—and dramatically raises your home's value.
Keep in mind that your finished basement can also be multi-functional. Many families choose to utilize their basements to maximum efficiency, creating space for work, play, and storage in the same room. Basements offer greater versatility than other rooms in your home, so it's easy to combine several uses into a single place. Our contractors can help you develop a design that flows naturally and incorporates benefits for your whole family.
Because your basement is set apart from the rest of the home, you'll also have the opportunity to experiment with design and décor. While other rooms in your home should complement adjoining spaces, you can easily choose new colors or a fresh aesthetic for your finished basement. Experiment with different styles such as a casual gaming center or a relaxing, rustic place to retreat.
To maximize the value your finished basement will add to your home, it's important to invest in high-quality materials and professional construction service to ensure that the job is done right. A remodeled basement can improve your family's quality of life, and you deserve to enjoy fine materials and reliable building in this new area of your home.
Schoenberg Construction offers some of the the best basement remodeling services in Saint Cloud, MN. We work closely with homeowners to answer all of their questions and to help choose the right materials and layout plans for their basements. We're happy to spend time discussing specific features and construction ideas with you in order to deliver the finished basement of your dreams.
Our goal has always been to provide the greatest value for your money and to do the job right every time. You can count on our family-owned business to deliver results that your family will love.
~~~
You want to know exactly what you'll get for your money and at Schoenberg Construction we are happy to tell you by offering you specific, accurate pricing that fulfills your vision at a price that works for you. We value honesty, integrity, trust, and customer satisfaction and proudly pass these core values on to every one of our clients.
Are you looking to hire a Basement Remodeling Contractor in the St Cloud MN area? If so, you need to know that Craig Schoenberg — owner of Schoenberg Construction, Inc of Saint Cloud MN — is one of the best Home Improvement, Remodeling, and General Contractors in Saint Cloud and Central MN. He always gives honest, fair bids with no lowball, fake pricing, and there's no sales pressure, ever! He always uses quality materials and never engages in sloppy workmanship. Plus, his company is known as one of the very best construction and remodeling companies in town.
Give Craig a call today at 320-252-0911 for your no-obligation consultation.
~~~~~~~~~~~~~~~~~~~~~~~~~~~~~~~~~~~~~~~~~~~~~~~~~~~~~~~~~~~~~~~~~~~~~~~~~~~~~~~~~~~~~~~~~~~~
View before and after photos of another
beautiful basement finishing project we constructed
~~~~~~~~~~~~~~~~~~~~~~~~~~~~~~~~~~~~~~~~~~~~~~~~~~~~~~~~~~~~~~~~~~~~~~~~~~~~~~~~~~~~~~~~~~~~