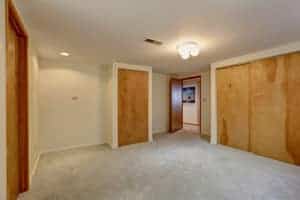 Basement Remodeling Ideas to Help Define Your New Space
Many central Minnesota homeowners dream of the additional space and value that comes with a finished basement—but choosing what exactly should go in that area can be a very difficult choice.  Fortunately, with a finished basement, there's a world of possibilities lying literally beneath your feet. 
We've put together five of our favorite basement remodeling ideas to help define your new space.
5 Basement Remodel Ideas for Saint Cloud MN Homeowners
1. Exercise Room
Whether you're training for a marathon or simply hoping to tone up a little before the start of swimsuit season, having a personal home gym located right in your basement is a huge convenience.  We've seen many homeowners benefit from adding space for an exercise room to their newly finished basements.  One of the greatest perks of this addition is that it can easily be fit into a small portion of the total basement area—leaving you plenty of room to also try out one or more of the following ideas.

2. Guest Bedroom
Sold on the idea of a home exercise room, but still needing a practical way to fill out the rest of the basement?  Look no further than adding a guest bedroom.  Guest bedrooms are the most convenient way to welcome visitors to your home and to make your friends and family feel like they are truly welcome to stay.  Keep in mind that if you are considering placing a guest bedroom in a basement, you will likely need to research local safety laws in order to ensure that anyone sleeping in the basement bedroom would be safe in the event of a fire or other emergency.
3. Home Office
A beautiful, spacious home office is another one of our favorite ways to utilize a newly finished basement area.  Whether your job gives you the option to work from home or you need a place to keep your files and bills organized, a dedicated home office space keeps clutter from building up in other rooms.  It's also a great way to separate work time from family time and to keep yourself focused on the task at hand. 
4. Rental Space
Looking for a way to really make your remodeled area work for you?  Consider using a finished basement as a rental space!  Many families build mini-apartments complete with a bedroom, bathroom, small kitchen area, and living space in their basements so they can earn rental income from a new tenant.  A small area that's suitable for renters is also a great option for families with college-age kids who aren't quite ready to leave the house but need some space of their own.
5. Play Center
Finally, families with younger kids may want to consider turning their finished basement areas into play centers.  These rooms can be completed with storage area for toys, room for games and game tables such as pool and air hockey, and plenty of space to run around.  Let your creativity run free as you design a basement play area—the options available to you are as limitless as your child's imagination!

~~~
Are you looking to hire a basement remodel contractor in the St Cloud MN area? If so, you need to know that Craig at Schoenberg Construction is one of the best Home Remodeling  and General Contractors in Saint Cloud and Central MN. He always gives honest, fair bids with no lowball, fake pricing. Plus, there's no sales pressure, ever. 
Craig and his staff NEVER use cheap materials or engage in sloppy workmanship, and his company is known as one of the top construction services providers in the Saint Cloud Minnesota area because Craig always insists on doing every job exactly right!
Give him a call today at 320-252-0911 for your no-obligation consultation.