St Cloud MN Basement Renovation and Remodeling— Home improvement projects all have one thing in common: careful planning and forethought can make all of the difference in the outcome.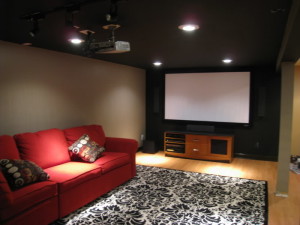 Work side-by-side with your St. Cloud general contractor to decide what steps you need to complete the basement renovation project, and exactly what you want it to look like when it is finished. You must also both agree on a budget that is precise but gives a little room for incidentals.
Basement Remodel Insights
The basement might be a little more labor intensive than any other single room, but there is no other home improvement project inside of the home that can match the sheer square footage gained from finishing a basement. Anyone can update a kitchen or a bathroom to add fashionable fixtures and modern appliances- and that can make a person's life more convenient- but if your goal is to have a bigger house without the hassle of a full-blown addition; a basement remodel is a great option for Minnesota residents.
Preparing for the Repairing, and Restoration
Transforming your basement into a new living space first requires that you check the current condition of your basement. If your plans include new flooring, for instance, the foundation must be inspected for cracks. Cracks are a sign that it might not have been cured properly, or it might be beginning to settle. A quick D.I.Y. project can be to fill the cracks with hydraulic cement, but beware that if the foundation continues to settle, the cracks will just open up again. Unfortunately, in this circumstance, a costly and extensive home repair is usually necessary to save the house.
Another hazard of basement remodeling in St.Cloud is problematic moisture that most basements seem to have trouble with. Even when water does not have a visible presence, high air moisture levels can wreak all kinds of havoc on a basement renovation. You can determine if you have a moisture problem yourself by taping a piece of aluminum foil, or a plastic bag to the wall for a few days. If you return to find water condensation, then it would be a wise idea to call a professional inspector to determine precisely what kind of water problems exist before continuing with the basement renovation. The causes of such problems can range from inadequate lawn drainage, leaky gutters, or even bad plumbing in the basement.
Plumbing and Basement Renovation
If you are facing a basement plumbing repair, you may wish to consider the idea with your St. Cloud general contractor of adding more basement plumbing, to include a wet bar or basement bathroom into your remodeling plans. Traditionally, that means beneath the cement floor, so this is a big choice that has to be made before the renovation can begin. This is one way to turn a sour situation like basement plumbing repair into the lemonade of a brand new basement party room. If you have to hire a plumber to do the repair on your current plumbing anyway, it can be quite beneficial to take the full leap and make a serious investment in your basement with all new plumbing.
~~~
Craig at Schoenberg Construction is one of the best Basement Remodeling Contractors in St Cloud. Craig always gives honest, fair bids with no lowball, fake pricing, plus there's no sales pressure, EVER. He never uses cheap materials and never engages in sloppy workmanship, and his company is known as one of the top home renovation companies in the Saint Cloud Minnesota area because he INSISTS on doing every job EXACTLY right.
Give him a call today at 320-252-0911 for your no-obligation consultation.