Basement Remodel Ideas Central MN—The idea of giving your basement a new look and feel is very exciting, and remodeling basements in a BIG way is a trend that many homeowners have come to embrace. Remodeling projects can require tireless hours and countless decisions, yet the final results and rewards of a basement remodel can be very fulfilling.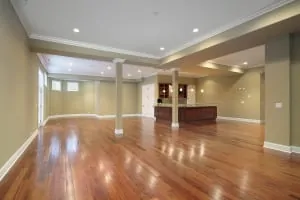 Very often, however, it is the remodeling design process that can keep a homeowner from beginning their project and remodeling their basement. We can help!
In this article, we discuss a few ideas that every central MN homeowner must know about remodeling basements. There are also remodel tips to help ensure a successful change from a dark, gloomy, basement to a beautifully lit and stunningly remodeled "new" basement that you'll enjoy for years to come.
Basement Remodel Ideas
Generally, people who decide to remodel their basements rely upon a single, simple reason — the basement function — to guide every step in the basement remodeling process. Let's explore three primary functions for a basement.
Idea #1 — Game Room
Nothing can get your friends and neighbors more excited to come over for a party than a game room in your basement. You'll need a nice TV set, some chairs, and a couch and your favorite gaming console. Of course, you can decide to up the notch by including some upgrades such as big speakers, a pool table or dart board (depending on the available space), or a refreshment stand (aka a bar). These upgrades would certainly lend a bit more panache to your game room basement remodel.
Idea #2 — Collectibles Display Room
There are some of us who have a rare hobby or are collectors of items such as stamps or vintage toys. Other people go to the extreme by collecting many different types of collectibles. If you are a hobbyist or collector, consider incorporating your passion into your basement remodel plans. Just imagine the joy you'll experience when you wow your guests as you take them on a guided tour to view the collectible museum you built during your basement remodel project.
Idea #3 — Home Theater
Nothing beats a lazy weekend when you just lay back in front of a big screen and let the hours pass by. Similar to the game room, the home theater system has the same basic essential requirements minus the game console. Surprisingly, game consoles nowadays can also play DVD movies so there really is not much more to spend when switching between a home theater system and a game room. In fact, if you plan ahead your basement remodel design can include a multi-function game room/home theater combo room.
Many homeowners have transformed their basements into game rooms, collectible display room, and home theaters. Ask yourself what your vision is for your basement? What is its purpose? Its function and use? Answering these simple questions will give you vast insight into exciting and fun ideas for remodeling your basement.
Remodeling Basements Tips
A few tips that you should incorporate into your basement remodel:
Tip #1 Control Moisture — This ensures that your floors and ceiling don't get wet and you avoid mold and mildew problems as well.
Tips #2 Floor Padding — Your basement should have a quality, thick padding underfoot as you'll definitely want to ensure a positive experience that is soft and comfortable.
Tips #3 Ceilings — Blending cost and practicality as well as aesthetics is a major consideration when deciding on the type of basement ceiling you install. Learn more about basement ceiling options here.
Getting It All Done
Simply follow these easy tips and fun ideas and soon you'll be on your way to a fully designed basement that is ready to be remodeled.
You want to know exactly what you'll get for your money and at Schoenberg Construction we are happy to tell you by offering you specific, accurate pricing that fulfills your vision at a price that works for you. We value honesty, integrity, trust, and customer satisfaction and proudly pass these core values on to every one of our clients.
If you want to ensure that your basement remodel is a success, you need to know that Craig Schoenberg — owner of Schoenberg Construction, Inc of Saint Cloud MN — is one of the top basement remodelers in town. He always gives honest, fair bids with no lowball, fake pricing, and there's no sales pressure, ever! He always uses quality materials and never engages in sloppy workmanship. Plus, his company is known as one of the very best construction and remodeling companies in town.
Give Craig a call today at 320-252-0911 for your no-obligation consultation.
Why Work With Schoenberg Construction
What We Value
Honesty
Integrity
Trust
Satisfaction
What We Do
Specific, Accurate Pricing
Highly Skilled Carpenters
Reliable, Skilled, and Valued Subcontractors
Top, Quality Materials
Unbeatable Customer Service
What You Get
75+ Years of Combined Custom Construction Experience
The Project of Your Dreams for the Price You Were Promised