How to Figure the Cost to Finish Your St Cloud MN Basement
So you've decided it's time for an update—and now you just need to figure out how much it's going to cost to finish your basement. Basement finishing can sometimes be more costly than remodeling other areas of your home because there are extra steps involved in the process. That means that it's especially important to have a clear roadmap in mind before you get started.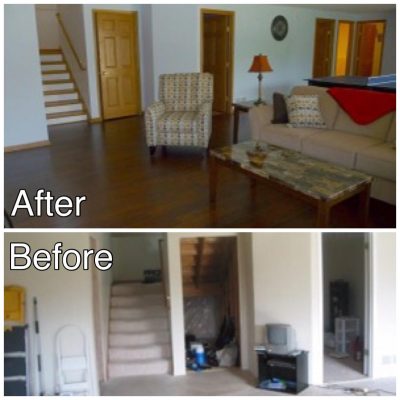 Take the following steps to determine how much your basement project may cost.
1. Decide What You Want

First things first: You'll need to develop a clear idea of what you want your finished basement to look like. For most people, this is the fun part—you get to dream about what your new space will include and what it will allow you and your family to do.
As you brainstorm, be sure to save inspiration photos and materials that accurately depict your vision. These resources will be immensely helpful when it's time to meet with a contractor.
2. Meet with Your Contractor to Develop an Estimate

Once you have a good idea in mind of what you're looking for, you should meet with a trusted contractor to find out whether or not your plans are feasible and how much it will all cost. Your contractor will develop an estimate for the project that will include potential costs, materials, and completion times. He will also make sure that you've considered all important aspects of the project and help you make decisions that fit your family's needs.
Keep in mind that your contractor cannot create a final estimate at this stage in the game, because that's dependent on the specific choices you'll make down the line—but he can help you get a sense of whether or not your vision matches your budget.
3. Figure Out Which Materials and Design Elements Matter Most to You

While your contractor works on your general estimate, you should work with him to determine which elements of the project are most important to you. First, clearly identify which parts of your dream finished basement fall into the "need" category and which are simply "wants." Cutting out a few of the least essential "wants" is one of the easiest ways to keep costs down on your project.
Once you've identified the most important aspects of your project, your contractor can also help you determine where you might be able to save on materials. There are some areas where you don't want to skimp on quality, but you might be able to get away with a lower-cost item somewhere else to help keep your budget on track.
4. Consider DIY Options

Finally, consider whether or not there are any aspects of your project that you might be able to DIY. In general, we recommend going with a professional contractor for most parts of the basement finishing process because a trained, reliable contractor will have the knowledge and skill required to make sure your basement holds up for many years to come. However, you may easily be able to DIY parts of the project such as painting and hanging curtains in order to save a little on your final bill.
After you've determined exactly what you want and chosen all of the final materials and steps in your remodel, your contractor can complete your estimate and give you the final cost to finish a basement. And though finishing a basement may cost more than a smaller project like re-doing a guest bathroom upstairs, the final product will be well worth the investment you made!
You want to know exactly what you'll get for your money and at Schoenberg Construction we are happy to tell you by offering you specific, accurate pricing that fulfills your vision at a price that works for you. We value honesty, integrity, trust, and customer satisfaction and proudly pass these core values on to every one of our clients.
Are you looking to hire a basement finishing contractor in the St Cloud MN area? If so, you need to know that Craig Schoenberg — owner of Schoenberg Construction, Inc of Saint Cloud MN — is one of the best Home Improvement, Remodeling, and General Contractors in Saint Cloud and Central MN. He always gives honest, fair bids with no lowball, fake pricing, and there's no sales pressure, ever! He always uses quality materials and never engages in sloppy workmanship. Plus, his company is known as one of the very best construction and remodeling companies in town.
Give Craig a call today at 320-252-0911 for your no-obligation consultation.
Why Work With Schoenberg Construction
What We Value
Honesty
Integrity
Trust
Satisfaction
What We Do
Specific, Accurate Pricing
Highly Skilled Carpenters
Reliable, Skilled, and Valued Subcontractors
Top, Quality Materials
Unbeatable Customer Service
What You Get
75+ Years of Combined Custom Construction Experience
The Project of Your Dreams for the Price You Were Promised