Kitchen Remodeling in Older Homes— In St Cloud and across the great State of Minnesota, many older homes (those dating more than 20 years) tend to suffer the unfortunate neglect of having dated wallpaper throughout – including within the kitchen.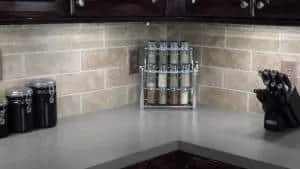 What was once considered common, budget-friendly and tasteful for many homeowners is now thought to be an affront to the modern American – and it's spurring residents to take up kitchen remodeling to bring older homes into the modern age.
As charming as country apples, cows, roosters, and strange yellow floral patterns can be… it just has to go. Once it's gone, however, you're left with trying to determine the best replacement to apply during your kitchen remodel.
While some of us sport laundry lists of remodel concepts, including kitchen remodel ideas from floor to ceiling, many are taking the smart route. Some are turning toward a St Cloud general contractor to target that one kitchen remodel item on the checklist that sticks out the most – the wall decor.
Decorative tile accents like bullnoses, raised patterns and borders can add just the right kind of detail you're looking for to relieve the ho-hum of a drab kitchen with flat paint – and it won't break the budget of your kitchen remodel, even if you do hire a general contractor from the St Cloud area.
Mind you, before you fall in love with a puke yellow tile accent or a bright blue bullnose… or even some kind of intricate motif with raised designs you have to keep in mind that holding a single sample of the tile isn't going to give you a clear vision of the finished result. You'll need to dig a little deeper to generate the complete image of your kitchen post remodel.
Because of the way tile is manufactured, different colors and finishes will pick up and/or reflect light in different ways. Depending on the lighting that's installed during your kitchen remodel, the tile could look quite different once it's mounted. This is where it can be beneficial to work with your St Cloud general contractor and the tile supplier to see examples of finished pieces using the tile you've selected.
Before you get your heart set on the ideal finished project, you have to ready yourself for what will come if you select a custom tile for your St Cloud kitchen remodeling project. Tile manufacture is equal parts science and art. What you receive for your renovation and remodel aren't likely to be picture perfect replicas of what you saw in a showroom display or sample.
With that knowledge in hand, you should be able to comfortably choose a finish and color that you'll be happy with for years to come – hopefully for the life of your home. A general contractor can advise you of the best finish for the environment (high glaze is easier to clean for example) and will play a large role in the planning of the design itself. You won't be forced to figure out the design and layout on your own.
Tile is the perfect kitchen remodel idea if you need to get rid of old wall paper, paneling or wallboard that simply doesn't suit the other additions you have made or plan to make in the near future. When it comes to kitchen remodeling, tile boasts character and speaks spades about the style of the homeowner. It also makes your living space for more comfortable, inviting and certainly more full. If you're struggling with the decor of your living space, and can't take the 1960 fall harvest motif, contact a St Cloud general contractor to learn just how easy it is to revitalize your kitchen with some simple, targeted remodeling projects.
Kitchen Remodeling Links & Resources
~~~
Craig at Schoenberg Construction is one of the best Kitchen Remodeling Contractors in St Cloud. He always gives honest, fair bids with no lowball, fake pricing. And there's no sales pressure, EVER! He never uses cheap materials and never engages in sloppy workmanship. Plus, his company is known as one of the top construction and remodeling companies in the Saint Cloud MN area because he always insists on doing every job exactly right.
Give him a call today at 320-252-0911 for your no-obligation consultation.
Why Work With Schoenberg Construction
What We Value
Honesty
Integrity
Trust
Satisfaction
What We Do
Specific, Accurate Pricing
Highly Skilled Carpenters
Reliable, Skilled, and Valued Subcontractors
Top, Quality Materials
Unbeatable Customer Service
What You Get
75+ Years of Combined Custom Construction Experience
The Project of Your Dreams for the Price You Were Promised