How to Choose the Best Bathroom Colors for Your Home
Investing in a bathroom remodel is a big decision—so you want to make sure that the process goes as well as possible and that the finished product is exactly what you dreamed about. And while choosing the right layout and design elements is a major part of the remodeling process, selecting the best bathroom colors is just as important.
Three Questions You Should Consider

Before you start mixing paint and buying brand new towels, ask yourself the following questions.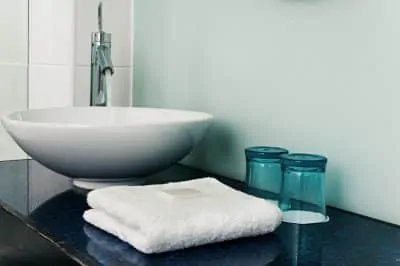 1. How do the colors make me feel?

First things first—you want to choose a color scheme that makes you feel good each time you step in the bathroom. Whether you find yourself drawn to a bold, modern design or a clean and simple aesthetic, you should feel like you've entered your own personal oasis when you're getting ready each morning.
2. Do the colors make the room appear larger or smaller?

Colors and the way they are integrated together can have a major impact on how large or small your bathroom looks, regardless of the room's actual square footage. Typically, it's best to choose a couple main shades for the floors, walls, and tiling and then accent your décor with other hues in focal point pieces.
3. How well will the colors age over time?

Because remodeling is a complex process, it's important to choose the best bathroom colors that will stand up to the test of time—because ideally, you want this decision to last you and your family for years to come. Think carefully before following along with any color schemes that are too trendy or before choosing a bold pattern or shade that you might get sick of after the first couple years.
Four Top Bathroom Colors to Consider

1. Crisp White

An all-white room might sound boring or overly minimalistic, but it's one of the most popular bathroom color schemes for a good reason. The brightness and simplicity of a white bathroom gives the room a fresh, clean, and spa-like aesthetic.
2. Calming Blue

Blue is typically seen as a calming and peaceful color, which makes it a wonderful choice for a bathroom color scheme. Choose a pale blue for a soft design that is quiet and unassuming, or consider a striking navy or midnight blue for a bathroom look that is both commanding and calm.
3. Soothing Grays

If you're the kind of person who finds beauty in the ordinary, a gray bathroom color scheme might appeal to you. There are all sorts of wonderful ways to dress up your design in neutral gray. Best of all, gray also serves as a fantastic backdrop to an array of other colors if you decide you'd like to accent with a bolder choice (think navy, yellow, or a darkened lilac).
4. Bold Espresso

Homeowners who prefer darker hues will love the drama and confidence that a bold espresso bathroom exudes. Like gray, espresso functions well with all sorts of accent colors. It can also be used to striking effect in everything from minimalistic décor to bold, Asian-inspired modern designs.
Best Bathroom Colors Links
~~~
Are you looking to hire a home improvement contractor in the St Cloud MN area? If so, you need to know that Craig at Schoenberg Construction is one of the best Home Improvement, Remodeling and General Contractors in Saint Cloud and Central MN. He always gives honest, fair bids with no lowball, fake pricing. Plus, there's no sales pressure, EVER. Craig and his staff never use cheap materials or engage in sloppy workmanship, and his company is known as one of the top construction services providers in the Saint Cloud Minnesota area becauseCraig always insists on doing every job exactly right!
Give him a call today at 320-252-0911 for your no-obligation consultation.