Adding a deck to a home brings the outdoors in, without the mess. A deck can be easily incorporated into most landscapes, and because decks can be installed with little infringement on the existing land they are also environmentally friendly.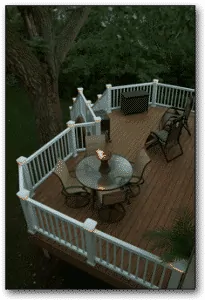 Taking the time to properly plan your deck ensures that you achieve the results you dream of and that you are able to enjoy it for years to come. While in the planning stages for your new outdoor space be sure to consider these six great decking ideas.
6 Decking Ideas for You to Explore
Deck Idea #1 –
The direction the deck area will face will have a big impact on how comfortable people are in the heat of the summer or the cool of the winter. Pay attention to how you will gain access to the area. It could be from the interior of the home only or you can have multiple access points to make it easier to get to other parts of the home or yard.
Idea #2 –
Look away from the home and then at the home, and then decide what the focal point of the deck will be. Some homes have a gorgeous vista just begging to be gazed upon; others will have a home that deserves to have its charm appreciated. The versatility of adding outdoor space allows you to add interest and value to your home which can be maximized by some thought and consideration during the deck planning phase.
Idea #3 –
Privacy is of concern to many people. When you live in areas that are not fenced, privacy may become infringed upon. To keep peace between neighbors look for options that will allow all parties their privacy. Privacy screens are a good option. This might be a living screen of bushes, a decorative screen at one end of a deck area, or just an umbrella or two may handle any decking privacy issue just fine.
Idea #4 –
Another topic to consider when planning your deck is how you want the area to perform and if you want the addition to be small or large. If you are looking for a small enclave to greet the morning, a simple extension off a room may be all that you need. If you are looking to add living space, a larger open area off a living room may better suit you. Extending a kitchen to the outdoors via a custom built deck is another great way to increase the use of your home.
Idea #5 –
Once you have the location, privacy, and use issues of your deck decided, you can begin to think about the functionality that can be incorporated into the area. Storage — always at a premium — can be added without taking away from the beauty of the scene, and seating can double as a place to stow cushions and towels. Consider these deck design options carefully.
Idea #6 –
Lighting, plumbing, and gas are utilities that you will want to consider before you build. Lighting will add the most dramatic change to an area. However, having a water source for a sink or hot tub, and gas to the grill and heaters will give you convenience that shouldn't be overlooked.
When planning your deck, keep in mind these six decking ideas as preparation and planning really are the most important phases of the project. Once all aspects of your new deck are well thought out, the last things you need to do are to choose the decking material and hire a Central MN Contractor.
Links & Resources
~~~
Craig at Schoenberg Construction is one of the best builders in Central Minnesota. Give him a call today at 320-252-0911 for your no-obligation consultation. He can help you decide if wood or composite decking products will give you the beautiful deck you want for the price you can afford. Work with a reputable and experienced contractor to build your dream deck because you deserve only the best.
Why Work With Schoenberg Construction
What We Value
Honesty
Integrity
Trust
Satisfaction
What We Do
Specific, Accurate Pricing
Highly Skilled Carpenters
Reliable, Skilled, and Valued Subcontractors
Top, Quality Materials
Unbeatable Customer Service
What You Get
75+ Years of Combined Custom Construction Experience
The Project of Your Dreams for the Price You Were Promised