Relaxing on a warm day, enjoying the company of friends and family on a beautiful and comfortable deck is an event that is looked forward to by many. If this is a dream of yours, then deciding on a composite deck and railings system could positively impact you both in terms of money and time.
Over the last twenty years, composite deck materials have been gaining in usefulness. Composite decking is made from fiberglass-reinforced plastic giving it strength and longevity with low maintenance. Composite decking is made through various processes and there are many alternates of sizes, patterns, and sturdiness available. (Depending on the composite material chosen, the decking material may be used for a number of building projects including railing, steps, benches…).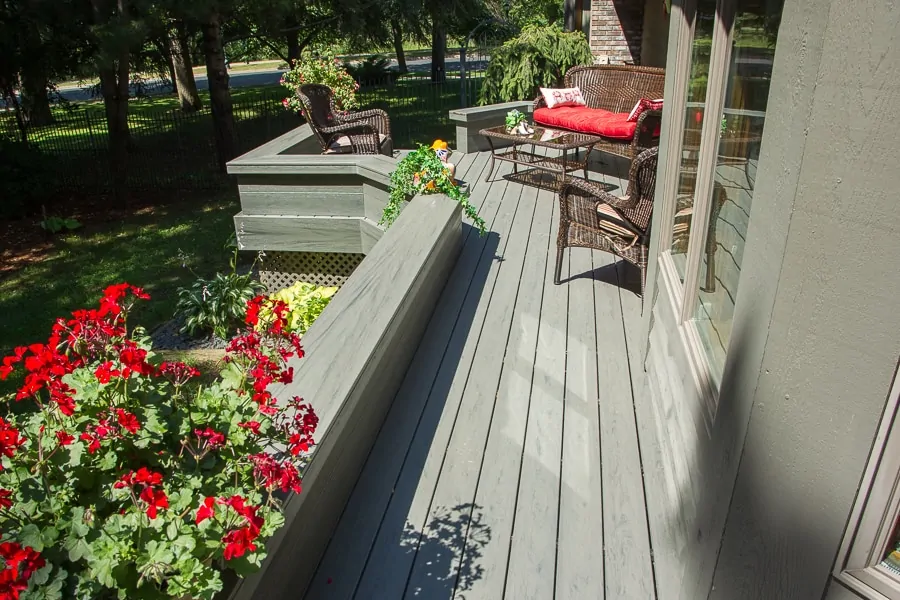 Traditional decking material, on the other hand, is made of pressure treated wood. This type of decking — both preservative-treated and naturally rot-resistant materials — has a life expectancy of ten to twenty years when maintained periodically with chemical sealants. But they require work and maintenance which is why you may prefer no maintenance composite decking for your new deck.
Composite Decking Advantages
There are many advantages of using composite deck materials over traditional wooden decks:
Low Maintenance, the color of the composite decks will not fade, so periodic staining is not necessary. Keep in mind, however, to inhibit mold or mildew buildup an occasional bath will be required;
No peeling, since the color is built into the material, as mentioned earlier, the deck would not peel over time as painted wood is expected to do;
No cracking, subjected to the environment of constant harsh sun and soaking rain, and under normal use, a composite deck will not crack;
No slivers, few issues can ruin a relaxing time on a deck like a sliver in the foot or a finger for that matter;
No warping or twisting, when a composite deck is properly installed you will not see any warping or twisting;
No replacing rotted or split boards, the long life, and durability of a composite deck will ensure minimal if any replacement and maintenance costs;
Non-slip surface: most composite decks have a better non-slip surface than traditional wooden decks.
There are a number of composite deck manufacturers producing quality products, however, the main difference among the manufacturers is in the color and texture that they offer in addition to the hand-railing options. Railings and other trim pieces are the finishing touches to a newly installed deck. They are made to match most styles of composite decking materials. Made of the same materials as the composite deck, decorative railings will offer the same low maintenance, high attractiveness, and longevity as the composite deck.
For those concerned about any environmental disruption, a composite deck is truly environmentally friendly. Due to specialized construction, these decks do not contain wood preservatives, which eliminate the heavy metals, and other chemicals found in pressure treated wood.
Deciding on having a deck built is a large investment and building a composite deck will inflate the up-front costs. Nevertheless, the low maintenance, good looks, longevity, and durability will mean the deck will offer you years of enjoyment for a very long time!
For an environmentally safe deck, that is low to maintain, will not peel, crack, or splinter and has a non-slip surface, composite deck and railings system will offer any St Cloud MN homeowner decades of enjoyment and relaxation.
Composite Decking Advantages Links & Resources
~~~
You want to know exactly what you'll get for your money and at Schoenberg Construction we are happy to tell you by offering you specific, accurate pricing that fulfills your vision at a price that works for you. We value honesty, integrity, trust, and customer satisfaction and proudly pass these core values on to every one of our clients.
Are you looking to hire a custom deck contractor in the St Cloud MN area? If so, you need to know that Craig Schoenberg — owner of Schoenberg Construction, Inc of Saint Cloud MN — is one of the best Home Improvement, Remodeling, and General Contractors in Saint Cloud and Central MN. He always gives honest, fair bids with no lowball, fake pricing, and there's no sales pressure, ever! He always uses quality materials and never engages in sloppy workmanship. Plus, his company is known as one of the very best construction and remodeling companies in town.
Give Craig a call today at 320-252-0911 for your no-obligation consultation.