One of our favorite remodels last summer was a home addition and deck replacement we performed for a family who wanted a little extra space.
They added a sitting room to their home and then updated their deck and patio to make the entire space feel brand new. For a family that loves to enjoy the outdoors, this project was a major upgrade. The outdoor area is even more beautiful than it was before—and the brand new sitting room inside means that they can still enjoy a lovely view of nature even when the weather isn't so friendly outside.
Take a look at these three before and after images of the outdoor deck and patio area.
Deck Replacement & Room Addition Before and After Photo #1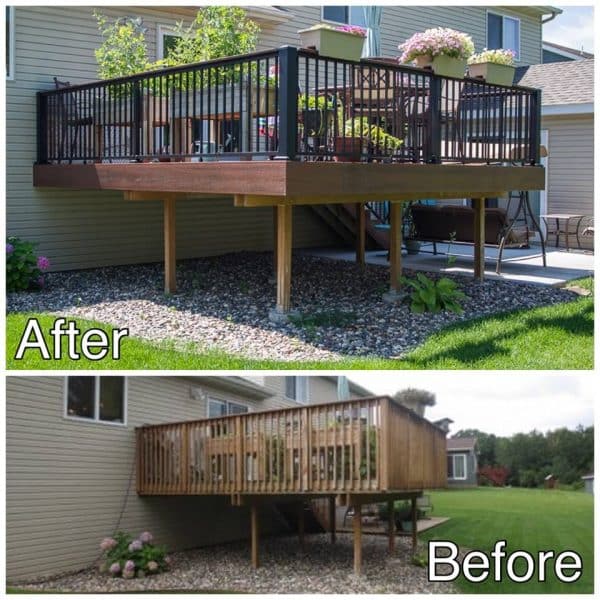 Deck Replacement & Room Addition Before and After Photo #2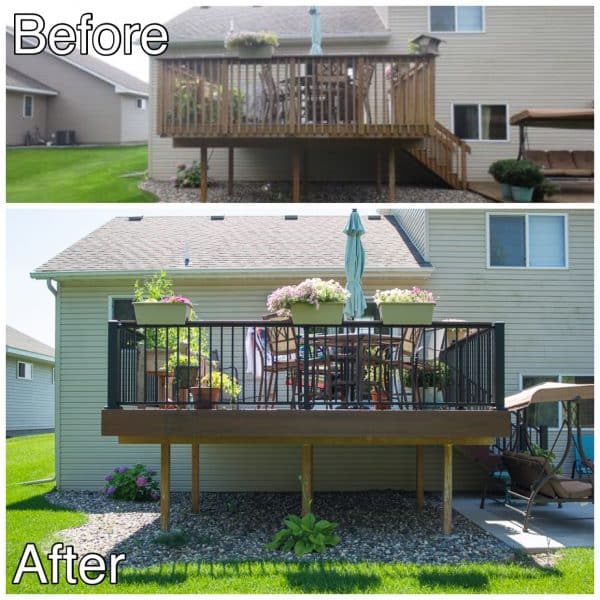 Deck Replacement & Room Addition Before and After Photo #3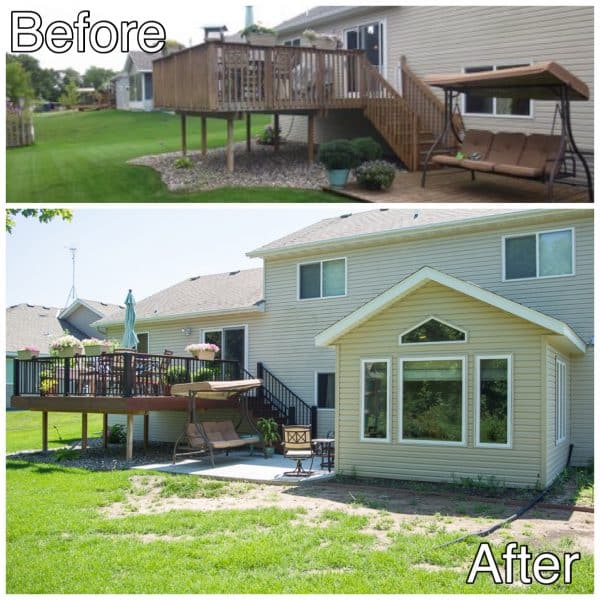 Though the deck didn't require a ton of changes, a few simple upgrades here and there really revamped the entire look. The biggest aesthetic change was the replacement of the weathered wood railings and stairway with the new metal railings. The new railings and the addition of an outer paneling around the base of the deck really freshened the entire look of this area. The low maintenance decking choice will also drastically reduce the care the deck will require in the years to come.
This next image offers a better look at the patio and the room addition from the outside: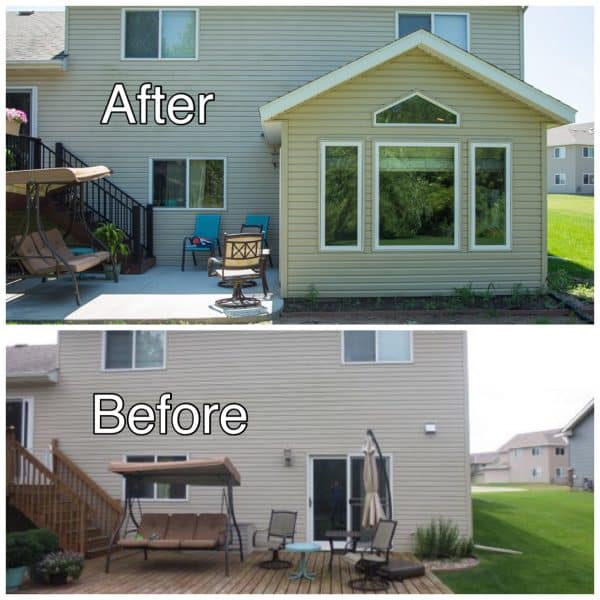 For starters, the addition meant that we needed to downsize the patio. However, by simply narrowing the width of the staircase and changing the layout of the patio furniture, we were able to keep the same functional appeal of the patio intact—so that it still feels like plenty of space to sit and relax. The new concrete is also easy to rinse off and care for and adds some visual interest alongside the wooden deck.
A Look Inside the Home Addition
Now, let's head inside and take a look at the home addition: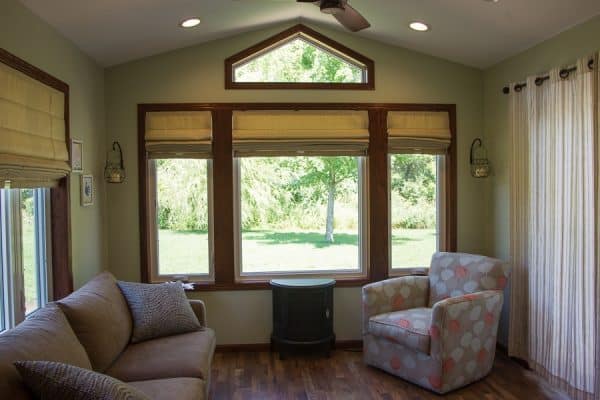 What a beautiful space! This room transitions so seamlessly from the rest of the house that you would never know that it didn't used to be there. With its fresh flooring and numerous large windows, this lovely room is open, light, and airy. It's the perfect place to sit with a cup of hot cocoa on a cold winter morning or to relax with a glass of wine on a summer evening when it's too hot to be outside. This new room is a lovely addition to this home for many reasons!
Are you looking to hire a residential contractor in the St Cloud MN area? If so, you need to know that Craig at Schoenberg Construction is one of the best Home Improvement, Remodeling and General Contractors in Saint Cloud and Central MN.
Why Work With Schoenberg Construction
What We Value
Honesty
Integrity
Trust
Satisfaction
What We Do
Specific, Accurate Pricing
Highly Skilled Carpenters
Reliable, Skilled, and Valued Subcontractors
Top, Quality Materials
Unbeatable Customer Service
What You Get
75+ Years of Combined Custom Construction Experience
The Project of Your Dreams for the Price You Were Promised
You want to know exactly what you will get for your money, and Craig is happy to do so by offering you specific, accurate pricing that fulfills your vision at a price that works for you. He values honesty, integrity, trust, and customer satisfaction and proudly passes these core values on to every one of his clients.
Craig Schoenberg — owner of Schoenberg Construction, Inc of Saint Cloud MN — is one of the top General Contractors in Central Minnesota. He always gives honest, fair bids with no lowball, fake pricing, and there's no sales pressure, ever! He always uses quality materials and never engages in sloppy workmanship. Plus, his company is known as one of the very best construction and remodeling companies in town.
Start building your dreams today—call Craig Schoenberg at 320-252-0911 or send him an email.