Looking at the broad spectrum of home improvement ideas and projects that are available to most homeowners, there are few that deliver improved energy efficiency like replacing drafty old windows with new energy efficient window replacements.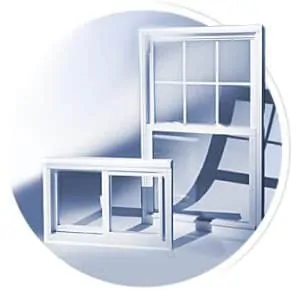 If you want to gain the most benefit, it's a good idea to educate yourself about the type of window you might purchase through a St. Cloud general contractor or window specialist.
Energy Efficient Window Replacements – The Basics
It's no wonder that modern windows are so much more energy efficient. Advancement in technology has streamlined the construction process that custom windows can be created for every home, making window replacements a perfect fit for any home in the St. Cloud area (or anywhere really).
Poor quality windows are one of the biggest issues facing homeowners, as it can cause a dramatic increase in heating and cooling costs, as well as giving pollen, allergens and other insects a direct route right into your home. New replacement windows can eliminate all of those issues – check out some of the great new technology that's working its way into homes around Minnesota.
Edge Spacers – These are one of the most inefficient aspects of dated windows in the St. Cloud area, particularly in older homes. The edge spacers held panes of glass apart from one another, and aluminum was the most common material that was used. These conduct heat and cold so effectively it's like having an open gap when you're trying to maintain temperatures. New edge spacers are made from insulated steel, silicone foam, vinyl, and butyl rubber to provide far more energy efficiency.
Tinting – This has long been in use with commercial window replacements and commercial construction in St. Cloud. Often it's used for larger windows where the gaping opening can let in a lot of like that will bake a room and all of its occupants. Thanks to newer technology, tinting is one of those great home improvement ideas that a general contractor can tackle relatively easy on your replacement windows. What's better, is that tinting no longer has to be extremely dark to filter that light. Lighter, less noticeable tinting has made it easy for residential homeowners to bring tinting to their window replacement projects.
Glazing – If you want to speed toward energy efficiency with new window replacements in your St. Cloud home, consider new windows with glazing. This simply refers to the method of using multiple panes of glass to generate a thermal barrier between the climates inside and outside of your home. The better the glazing (the thicker the air cushion between the panes and plastic) the more efficient your windows will be
There are a number of other improvements that have been made to new window replacements over the years. The result is a massive selection and opportunity to customize your windows. If you're looking for home improvements ideas, it's never a bad time to opt for window replacements.
Links & Resources
~~~
Craig at Schoenberg Construction is one of the best Window Replacement Contractors in St Cloud. Craig always gives honest, fair bids with no lowball, fake pricing, plus there's no sales pressure, EVER. He never uses cheap materials and never engages in sloppy workmanship, and his company is known as one of the top home renovation companies in the Saint Cloud Minnesota area because he INSISTS on doing every job EXACTLY right!
Give him a call today at 320-252-0911 for your no-obligation consultation.