A shocking event happens to homeowners on a fairly regular basis that's causing many homes and businesses in St Cloud – especially those with larger panes of glass- to seek out new replacement windows.
It might surprise you to know just how often birds of all sizes fly into windows, sometimes destroying the glass and killing the bird in the process. It happens thousands of times each day across the U.S. and it can cost a homeowner a lot of money.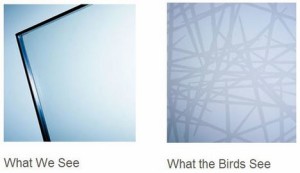 The problem stems from the fact that birds just can't see the glass. Heck, even some humans can't see the glass as they wander into department store doors and their own sliding glass walls.
There is a solution and if you're considering new replacement windows for a home improvement project then this may be an option for you to consider. Granted, you may not think this will ever happen to you but that's usually when we suffer the most annoying and costly disasters around our home.
Bird-Proof Windows, Your Next Home Improvement Choice Perhaps?
A German design company called ORNILUX has developed a new Bird Protection Glass which is coated with an UltraViolet reflective grid that gleams brightly to birds however it's transparent to the naked human eye.
These replacement windows, called Mikado, feature a criss-cross pattern that resembles a vast spiderweb stretching across the window and it's far less visible to the human eye than those types of replacement window currently on the market. ORNILUX is currently working with various American groups included the Audobon Society and American Bird Conservancy to raise awareness among businesses and homeowners all over the U.S. (even in St Cloud) on the issue of bird-window collisions.
Residential and Commercial contractors, as well as architects, are being encouraged to incorporate this new option into their building and home improvement projects where possible.
Per a recent study (one cites in the New York Times) ORNILUX performed a test on this new protective glass and showed that over 3/4 of the birds were able to avoid the glass. Far higher than standard glass windows where nearly every bird had a collision. Besides providing safety to local wildlife, these replacement windows offer more benefit to homeowners in that they are produced with either low-e coating or a solar protective coating to improve efficiency and "green up" your home.
~~~
Craig at Schoenberg Construction is one of the best Home Improvement Contractors in St Cloud. Craig always gives honest, fair bids with no lowball, fake pricing, plus there's no sales pressure, EVER. He never uses cheap materials and never engages in sloppy workmanship, and his company is known as one of the top home renovation companies in the Saint Cloud Minnesota area because he INSISTS on doing every job EXACTLY right.
Give him a call today at 320-252-0911 for your no-obligation consultation.