Remodeling Your St. Cloud, MN Kitchen-— Home improvement requires a lot of planning and extremely close attention to detail—and a kitchen remodeling project is no exception. Though you're getting ready to invest a lot of time, money, and energy into the design of your new kitchen, the costs are worth it in the end.
A remodeled kitchen with a great design and fantastic new look can improve the value of your home and increase your family's enjoyment of the space.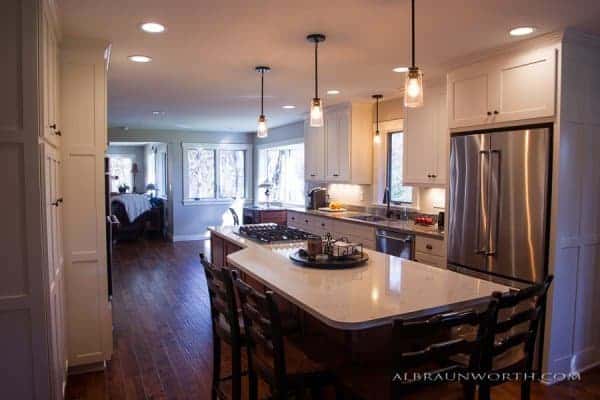 Excited to get started? Before you start tearing out cabinets and ripping out the flooring, you need to consider a few important factors. Use this checklist to prepare for your St. Cloud, MN kitchen remodeling project.
Checklist for Remodeling a Kitchen
Envision What You Really Want
You may already have a general idea of what you want in your new kitchen, but you're going to need a really clear picture before you can start getting kitchen renovation estimates from your contractor. Envision what you want the space to look like when it's completed.
Should there be more space to cook or additional cabinets for storage? Do you want new appliances, countertops, or hardwood flooring? Is the room's function or aesthetic more important to you? Carefully consider what you're looking for from your remodeling project. This choice will guide you throughout the estimate process and help you stick to your budget during the remodel.
Set Your Budget (for Money and Time)

Next, you need to start thinking about what you're really willing to put into this project. A remodeled kitchen can have high returns for the value of your family's property and the life of the room, but remodeling does require a substantial investment of time and money. Consider your finances and your schedule and outline a budget for the project that you can comfortably achieve.
Keep in mind that though you may need to make adjustments to your plan as the remodel progresses, you can still stay within your budget if you are willing to make sacrifices for the elements of your project that matter most. Before committing to a remodeling plan, be sure that you also have an emergency fund in place in case you encounter any major unexpected expenses during the project.
Determine the Size of the Project

Are you simply hoping to freshen the look of your kitchen—or are you interested in redesigning the entire layout of the room? It's important to determine the size and scope of the project once you have your budget in mind. Though you may not be able to make every change you've ever imagined, it is possible to find a plan that encompasses all of your needs and many of your wants while still sticking to your plan.
Once you have an idea in mind of what the project should entail, ask your Saint Cloud, MN contractor if the plan is feasible for your room. In some cases, remodeling one aspect of a kitchen can affect other components of the room, so it's important to determine what areas the project will need to include early on.
Look at Different Plans

Before you move forward with a specific remodeling plan, be sure you've considered all of your kitchen renovation options. Though you may have your heart set on one particular design, there could be another plan available that would actually align better with your needs, wants and budget. Even if you still go with the original plan, you'll have a list of suitable alternatives available in case you need to make an amendment to the project along the way.
Once you've considered your budget, your plans, and the size of the project, you'll be ready to move on to one of the most enjoyable parts of your kitchen remodeling project—choosing the specific products and materials you want in your new room. Keep in mind throughout this process that the cheapest options aren't necessarily the best. In many cases, it's best to invest in materials like countertops and cabinets that see a lot of use. If you're having trouble deciding which materials suit your needs, your St. Cloud, MN general contractor can help you select the best kitchen renovation options for your family.
~~~
Craig at Schoenberg Construction is one of the best Kitchen Remodeling Contractors in St Cloud and Central Minnesota. He always gives honest, fair bids with no lowball, fake pricing. And there's no sales pressure, EVER! He never uses cheap materials and never engages in sloppy workmanship. Plus, his company is known as one of the top construction and remodeling companies in the Saint Cloud MN area because he always insists on doing every job exactly right.
Give him a call today at 320-252-0911 for your no-obligation consultation.
Why Work With Schoenberg Construction
What We Value
Honesty
Integrity
Trust
Satisfaction
What We Do
Specific, Accurate Pricing
Highly Skilled Carpenters
Reliable, Skilled, and Valued Subcontractors
Top, Quality Materials
Unbeatable Customer Service
What You Get
75+ Years of Combined Custom Construction Experience
The Project of Your Dreams for the Price You Were Promised