Kitchen Island Plans: Select the Best Island Design for Your Family's Needs
There's no shortage of kitchen island options to choose from, and no single design or feature is inherently better than another. That means it can be tough to make a final choice—but it also means that there are plenty of right answers to this difficult question!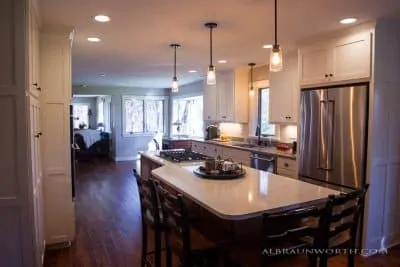 Kitchen Island Plans: What to Consider
Because kitchen islands typically serve several purposes, you should consider multiple factors when choosing an island that balances your family's needs. Here are a few things you need to keep in mind when making your kitchen island plans:
Space: How much space will the island take up? How much room will it give you for tasks like food prep?
Storage: Do you want to have extra storage built in to the island, or do you prefer a more open design? What kind of storage will be most beneficial—extra drawers, shelves, or cabinets? Or is the island an ideal place for an appliance like your dishwasher?
Seating: Should your family be able to sit at the island to eat, socialize, or work on homework? How many stools or chairs will you need to fit around the island?
Aesthetic: Is the island a key focal point of your décor, or do you want it to blend seamlessly into the background? How can the countertops or the materials used in the island itself accentuate your kitchen's design?
Six Kitchen Island Design Ideas to Consider

Once you've clearly identified your general needs, consider some of the following kitchen island plans to find a solution that suits your home and your family.
1. Built-In Function

Make the most of your kitchen island with built-in design elements that offer extra function such as a sink for easy cleanup, a chopping block or towel rack for convenient food prep that doesn't send you back and forth across the room, and contrasting countertop materials to clearly delineate between prep and eating spaces.
2. Built-In Storage

If your island has a solid bottom, you should absolutely take advantage of the extra space by adding built-in storage. Kitchen islands afford all sorts of room for additional cabinets, shelves, and drawers.
3. Built-In Appliances

You can also take advantage of the extra kitchen island space by adding a built-in appliance. Many families integrate a dishwasher, wine cooler, or oven and stovetop into their kitchen islands.
4. Make It Mobile

If you're worried that a kitchen island may take up too much space and may sometimes be in the way, consider putting it on wheels. Then, you can simply roll it away when you need the extra floor space.
5. Open Bottom

If you plan to use your kitchen island more frequently for extra seating and you're less concerned about additional storage space, consider choosing an island with an open bottom. These kitchen island designs are a little more comfortable for seating and also take up less visual space, which keeps your kitchen feeling light and spacious.
6. Long Countertop

Alternatively, you may want to choose an island with a long countertop that offers tons of room for prep space. A long island can also double as a buffet if you frequently entertain or serve large groups.
Kitchen Island Plans Links
~~~
You want to know exactly what you'll get for your money and at Schoenberg Construction we are happy to tell you by offering you specific, accurate pricing that fulfills your vision at a price that works for you. We value honesty, integrity, trust, and customer satisfaction and proudly pass these core values on to every one of our clients.
Craig Schoenberg — owner of Schoenberg Construction, Inc of Saint Cloud MN — is one of the top General Contractors in Central Minnesota. He always gives honest, fair bids with no lowball, fake pricing, and there's no sales pressure, ever! He always uses quality materials and never engages in sloppy workmanship. Plus, his company is known as one of the very best construction and remodeling companies in town.
Give Craig a call today at 320-252-0911 for your no-obligation consultation.
Why Work With Schoenberg Construction
When undertaking a custom construction building project, it's important to work with a contractor you trust and know you can count on. You also need to find someone who will work closely with you through each step of the project. At Schoenberg Construction, your satisfaction is our highest priority—and our commitment is evident in the quality and beauty of your finished project.
What We Value
Honesty
Integrity
Trust
Satisfaction
What We Do
Specific, Accurate Pricing
Highly Skilled Carpenters
Reliable, Skilled, and Valued Subcontractors
Top, Quality Materials
Unbeatable Customer Service
What You Get
75+ Years of Combined Custom Construction Experience
The Project of Your Dreams for the Price You Were Promised