Kitchen Renovation Ideas for More Space and an Updated Look

Your kitchen isn't simply the room where you prepare food—it's also the place where families come together and spend time unwinding, exploring, and laughing together. That's why when you're planning to remodel your kitchen, you need to consider ways to make it both inviting and functional.
Here are six fantastic kitchen renovation ideas that help you update the room's look while also making the most of your space.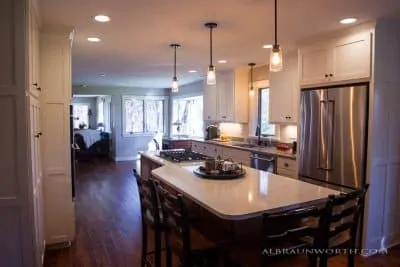 6 Kitchen Renovation Ideas
1. Bring in More Light with New Windows
Adding new windows is a surefire way to open up any kitchen and instantly make it brighter and warmer. Consider full windows if you have extra wall space or room above the sink on the outer wall, or glass doors or small windows near the ceiling if you're pressed for space.
2. Add an Island for Seating, Storage, or Prep
Kitchen islands have been a popular design trend for many years now, and for good reason—they offer plenty of extra prep space, along with the potential for additional storage and seating.
Picture yourself chatting with family seated at the island as you seamlessly prepare a meal on the island's countertop. All of the tools you need are conveniently located within arm's reach inside the island's built-in cabinets. Could cooking be any more simple and enjoyable?
3. Updated Flooring Brings Flair and Function

New flooring is another great way to quickly add style and simplicity to your kitchen because there are so many options available to suit every family's needs.
When choosing new flooring, it's important to consider what style you're going for and how much maintenance you're willing to put in to keep your floors looking nice. Options like tile and laminate hardwood often effectively straddle the lines between affordability, easy maintenance, and aesthetic appeal.
4. Expand the Room with an Open Layout
If you're open to more complex kitchen renovation ideas, you may also want to consider updating the layout of your room. Many older kitchens have awkward countertop layouts and partition walls that separate and close off the room from other areas of the house.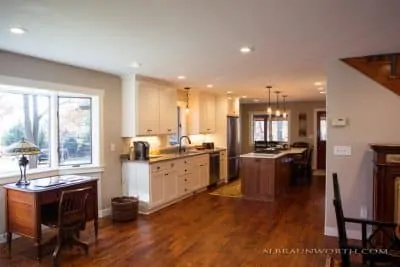 However, an open layout is much more modern and inviting and enables you to socialize with family and guests while you're putting the finishing touches on dinner. Consider removing counters and walls that interrupt your natural path in favor of a wide-open design.
5. Make Food Prep Easier with Extra Lighting

One of our favorite ways to add aesthetic depth and extra function to a kitchen renovation is to install extra lighting.
Under-cabinet lights make it easier to see what you're doing while you're prepping food, while recessed ceiling lights can make your kitchen feel bigger and can also be used to draw attention to particular aspects of the room. And of course, a unique hanging lighting fixture can tie your kitchen décor together and add a touch of personality to your home.
6. New Cabinets Change Everything

Finally, there's no better way to completely change the look and function of your kitchen than by installing new kitchen cabinets. Because they take up so much visual space, cabinets play a major part in setting the tone of your kitchen's aesthetic—which means that everything from a fresh coat of paint to new hardware to a fully new installation can completely change the look of your room.
Choosing a new set of cabinets also helps you fully maximize your kitchen's storage potential. Think carefully about your storage needs and your cooking habits as you determine how many drawers, shelves, and cabinets you will need.
Kitchen Remodeling Links & Resources
~~~
Are you looking to hire a contractor in the St Cloud MN area? If so, you need to know that Craig at Schoenberg Construction is one of the best Home Remodeling and General Contractors in Saint Cloud and Central MN. He always gives honest, fair bids with no lowball, fake pricing. Plus, there's no sales pressure, EVER. Craig and his staff never use cheap materials or engage in sloppy workmanship, and his company is known as one of the top construction services providers in the Saint Cloud Minnesota area because Craig always insists on doing every job exactly right!
Give him a call today at 320-252-0911 for your no-obligation consultation.