Imagine you are sitting by the Mississippi River in Sartell, MN, enjoying the beauty of the day (and the nearby water) and unwinding from a long week at the office. Ahhhhh… can you feel the stress melting away? One lucky family can because they now have a beautifully remodeled family cabin to enjoy located by the river in Sartell.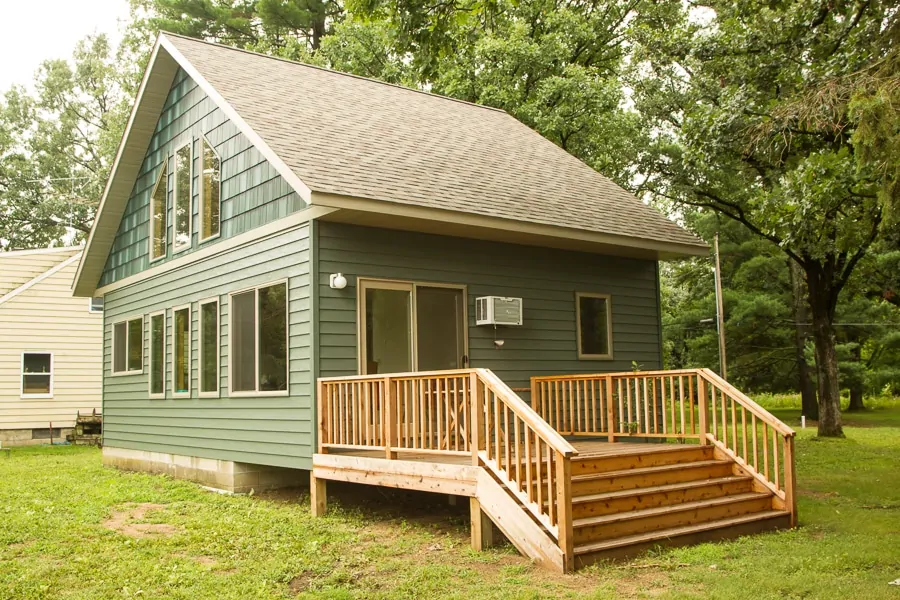 The original small, single-story cabin had been in the family for many years and was passed on from a father to his children. But time had taken its toll on the structure and water leaks developed. Additionally, the family grew in size over the years and the existing cabin could no longer accommodate everyone. The lack of space meant some family members had to spend their nights at a nearby hotel. The time had come for this family to take action and remodel their family cabin. That's when they called Craig Schoenberg, General Contractor and owner of Schoenberg Construction.
After meeting and strategizing about their cabin remodel plans, the decision was made to tear the existing cabin down. The foundation would be left in place and a brand new structure would be built on top of it. To add space, the floor would be extended beyond the existing foundation. And the biggest bonus is that the rebuilt structure would include all new windows, electrical, plumbing, and an updated septic system. The results of this cabin remodel project are adorable.
Sartell, MN Cabin Remodel/Rebuild Before and After Photos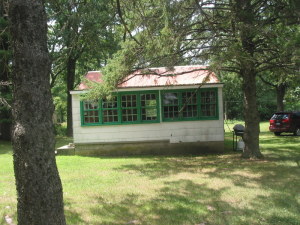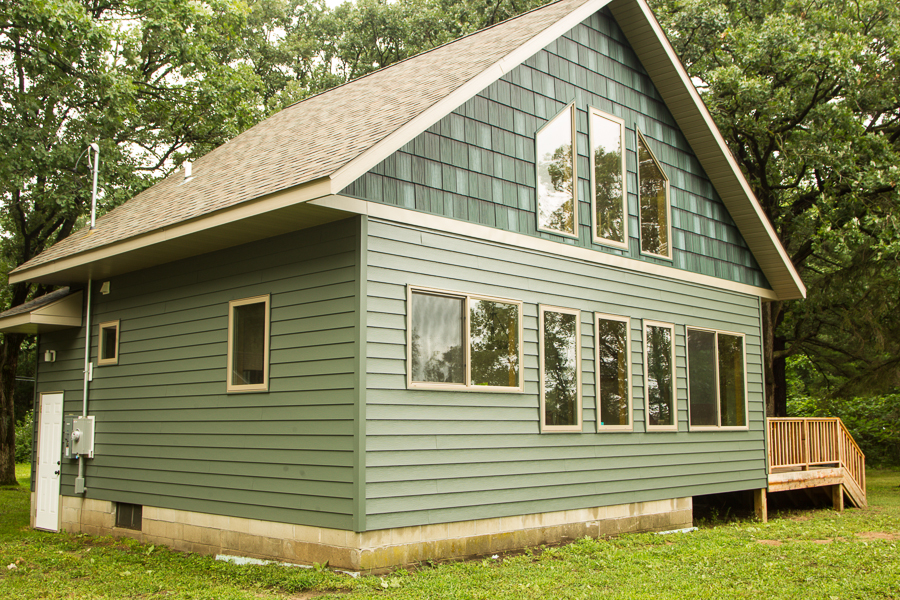 The exterior of the old cabin was definitely beginning to show its age. The rebuilt cabin got a fresh new look with updated green siding and tiles that will be easier to maintain than the original white siding and a span of brand new windows. The additional floor space and the new upstairs loft area give this family lots more space to enjoy together.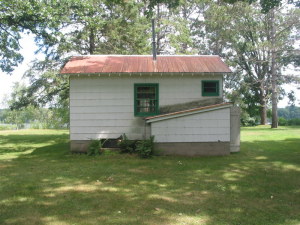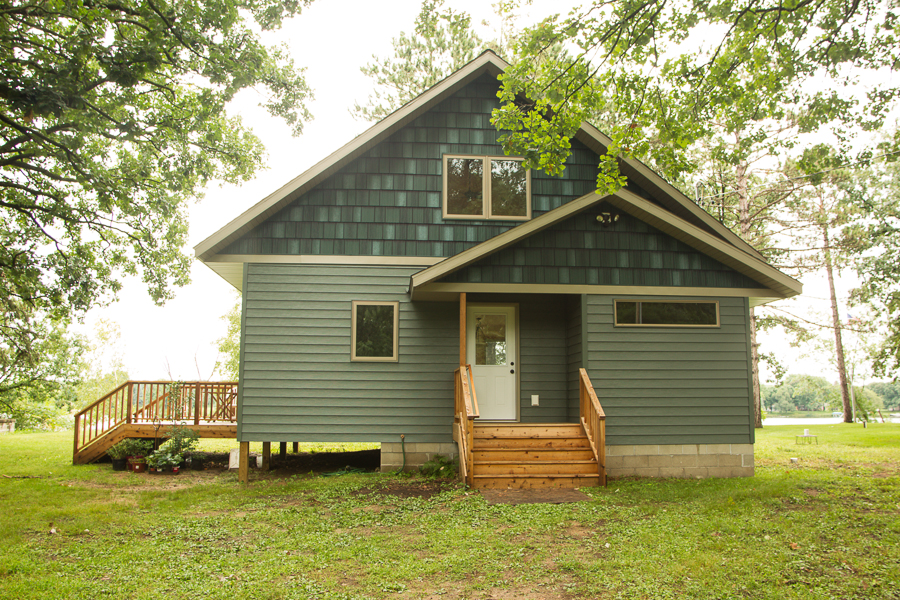 We love that each side of the house now has more windows than the old cabin did! The beautiful wooden deck and staircases also add to the character of this lovely, rustic abode.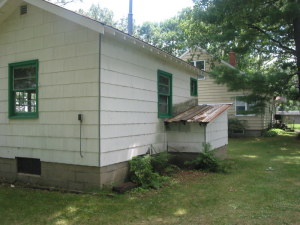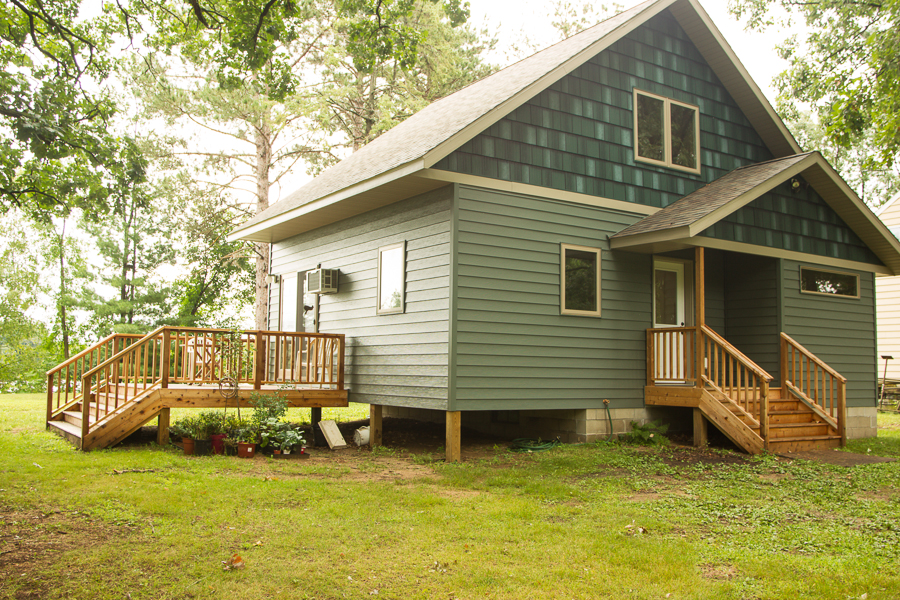 The new cabin also features a fabulous deck where family members can sit and enjoy a few cold glasses of lemonade or their favorite books. What a lovely place to sit outside and take in the sunshine and fresh Minnesota air!
Sartell Cabin Interior Photos
The interior of this cabin is cute and comfortable, and the design optimizes the space for maximum functionality (including a brand new loft space!). In addition to the rooms pictured below, there is a full bathroom and a private bedroom on the main floor.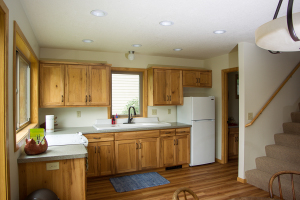 Plenty of cabinets and an expansive countertop offer lots of room for storage and cooking prep, while the windows allow wide bursts of natural sunlight to stream in. Recessed lights give the kitchen a cozy feel when family members are cooking in the evenings after the sun has gone down.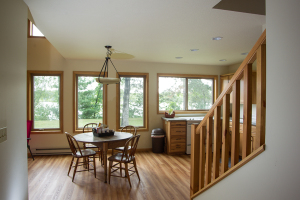 Again, the dining area benefits from lots of natural light with several full windows and the added light from the kitchen. A brand new overhead lighting fixture adds a touch of modern appeal to the cabin's simple decor.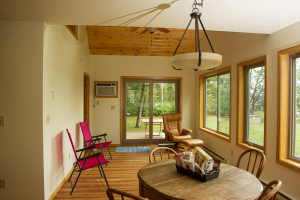 Though the dining table only seats four, there's plenty of additional room to add extra seating or even extra tables when a big group is staying at the cabin. This living room area is also surrounded by natural light and benefits from the open ceiling that looks up the loft (which you can see in the photo below).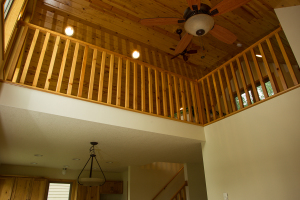 This photo is taken from the living room and looks upward toward the brand new loft. We really love how open this entire space feels!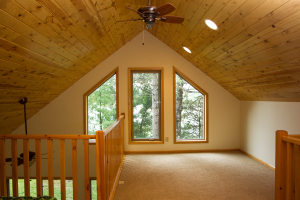 The loft brings more square footage to this beautiful cabin and also serves as a convenient multi-purpose room. Whether the family chooses to use this space as a spare bedroom, a playroom for the kids, storage space, a room for crafts, or a place to lounge, the open feeling of the room and beautiful wood-paneled windows will serve as a gorgeous, multi-functional backdrop to their favorite activities.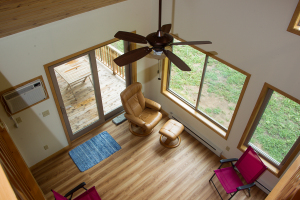 This last photo offers a view looking from the loft down to the living room (and you can also catch a peek of the large deck outside!). With the open design plan of the living space and loft area, family members can easily enjoy their separate spaces or join in the same fun conversation while on different floors.
Though it was certainly a little sad to tear the old cabin down, we're so excited that this lucky family is thrilled with their brand new cabin space. The additional space, brand new design and floor plan, and updated electrical and plumbing systems will make it easier than ever before for their entire family to enjoy the cabin together. This beautiful new cabin will certainly serve as a valued source of comfort and as a relaxing, peaceful destination for many generations to come.
~~~
You want to know exactly what you'll get for your money and at Schoenberg Construction we are happy to tell you by offering you specific, accurate pricing that fulfills your vision at a price that works for you. We value honesty, integrity, trust, and customer satisfaction and proudly pass these core values on to every one of our clients.
Are you looking to hire a cabin remodeling contractor in the St Cloud MN area? If so, you need to know that Craig Schoenberg — owner of Schoenberg Construction, Inc of Saint Cloud MN –is one of the best home builders and remodeling contractors in St Cloud and Central Minnesota. He always gives honest, fair bids with no lowball, fake pricing, and there's no sales pressure, ever! He always uses quality materials and never engages in sloppy workmanship. Plus, his company is known as one of the very best construction and remodeling companies in town.
Give Craig a call today at 320-252-0911 for your no-obligation consultation.
Why Work With Schoenberg Construction
What We Value
Honesty
Integrity
Trust
Satisfaction
What We Do
Specific, Accurate Pricing
Highly Skilled Carpenters
Reliable, Skilled, and Valued Subcontractors
Top, Quality Materials
Unbeatable Customer Service
What You Get
75+ Years of Combined Custom Construction Experience
The Project of Your Dreams for the Price You Were Promised