Is Kitchen Remodeling Cost-effective in Central Minnesota?— So, you have made the decision to remodel your home. Kitchen remodeling is one of the first rooms that homeowners explore with regard to home renovations. The kitchen is the main gathering place in the home for families and friends. It is the area where socialization happens frequently, so it makes perfect sense to choose to remodel this room.
A kitchen remodeling project can be extremely fun and should be looked upon as such. There are so many small changes that can be made to completely transform this room that it is mind-boggling. Let us talk a bit about whether this remodeling project is a sound financial decision for you.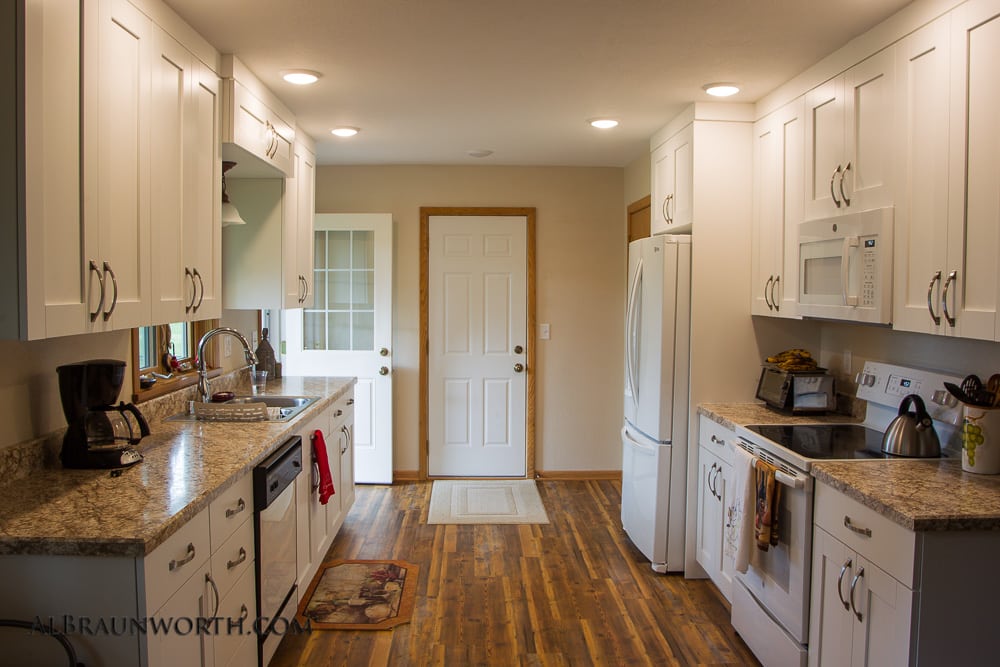 Kitchen Remodeling in St Cloud, MN
First, you should look at the long-term picture. Are you remodeling the kitchen for your own preferences, or will you be selling the home at any point in the future? Either way, renovations to the kitchen can help save money in the future.
If you are planning to stay in the home, you can employ some new choices that can help save on your monthly utility bills. You can opt for new energy efficient windows that can save you on your monthly electric payments. You can install low flow faucets to save on water consumption. You can also buy appliances that are more energy efficient as well. You will also experience personal satisfaction that your new kitchen is more operational and updated than it was previously.
If you are planning on selling your home in the future, you can expect a positive return on your investment. If you ask any realtor, they will tell you that one of the first things a potential buyer is interested in is the kitchen. If your kitchen is fresh and updated with contemporary finishes (counters, cabinets, flooring) it will make your home stand out against homes that have a more dated kitchen. You can expect to get a return of at least 40% – 60% of your remodeling investment when you go to list your home. You can get a higher sales price due to the upgrades.
A home kitchen makeover is a very prudent choice, especially if you can only remodel one room. The kitchen is central to the home and you spend a lot of time there cooking, eating and socializing. The benefits of new and updated appliances and other elements far outweigh the costs you may incur. You will be surprised at how far you can get on your proposed budget. When your project is finished, you will realize it was money well spent.
You want to know exactly what you'll get for your money and at Schoenberg Construction we are happy to tell you by offering you specific, accurate pricing that fulfills your vision at a price that works for you. We value honesty, integrity, trust, and customer satisfaction and proudly pass these core values on to every one of our clients.
Are you looking to hire a kitchen remodeling contractor in the St Cloud MN area? If so, you need to know that Craig Schoenberg — owner of Schoenberg Construction, Inc of Saint Cloud MN — is one of the best Home Improvement, Remodeling, and General Contractors in Saint Cloud and Central MN. He always gives honest, fair bids with no lowball, fake pricing, and there's no sales pressure, ever! He always uses quality materials and never engages in sloppy workmanship. Plus, his company is known as one of the very best construction and remodeling companies in town.
Give Craig a call today at 320-252-0911 for your no-obligation consultation.
Why Work With Schoenberg Construction
What We Value
Honesty
Integrity
Trust
Satisfaction
What We Do
Specific, Accurate Pricing
Highly Skilled Carpenters
Reliable, Skilled, and Valued Subcontractors
Top, Quality Materials
Unbeatable Customer Service
What You Get
75+ Years of Combined Custom Construction Experience
The Project of Your Dreams for the Price You Were Promised
Artricle Written by: Leonard Simmons