Custom Built Home in Clearwater Built by St Cloud Minnesota General Contractor—
This lovely custom home located in Clearwater, MN is a beautiful example of the quality craftsmanship of our work. The homeowner is thrilled with the final result of her custom built home, and so are we. It's always a joy to work with such a wonderful client and to have the honor of building someone's dream home.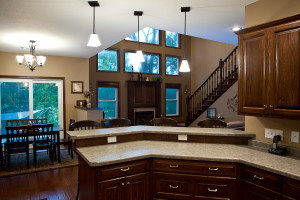 Custom House Building: The Owner's Feedback
We take great pride in ensuring that our customer's are 100% satisfied with the final results of the construction services we deliver, especially when it comes to building a new home. Here is what the owner of the house pictured on this page has to say about us:
"Building a custom home can be stressful and overwhelming. I want to send a special thanks to Craig and his staff for helping me through the process with ease. Every aspect of the project was thoroughly explained with suggestions and options put forth to ensure I was completely satisfied.
I have been in my home for about a year and I have absolutely no regrets on something I may have or may not have done. Thank you again." ~ Jennifer Dhein, Happy Homeowner
Take a look at more of the gorgeous pictures displayed below of this cozy, comfortable and stylish home. After viewing the photos, close your eyes and just imagine yourself living in this beautiful house, or in the custom house of your dreams!
Our Motto is "Building Your Dreams on Our Values"
You want to know exactly what you'll get for your money and at Schoenberg Construction we are happy to tell you by offering you specific, accurate pricing that fulfills your vision at a price that works for you. We value honesty, integrity, trust, and customer satisfaction and proudly pass these core values on to every one of our clients.
Craig Schoenberg — owner of Schoenberg Construction, Inc of Saint Cloud MN — is one of the top General Contractors in Central Minnesota. He always gives honest, fair bids with no lowball, fake pricing, and there's no sales pressure, ever! He always uses quality materials and never engages in sloppy workmanship. Plus, his company is known as one of the very best construction and remodeling companies in town.
Start building your dreams today—call Craig Schoenberg at 320-252-0911 or send him an email.
Links to More Pictures of Custom Homes Built by Schoenberg Construction:
Craig at Schoenberg Construction is one of the best Custom Home Builders in Central Minnesota. When you call and talk with him there is no sales pressure EVER!
Give Craig a call today at 320-252-0911 for your no-obligation construction consultation.
Schoenberg Construction, Inc.
3040 36th Avenue SE
Saint Cloud, MN 56304
320-252-0911