Custom Patio Home Pictures
Welcome You are looking for pictures of homes and we are happy to share them with you. For many people, the appeal of this type of home is the convenience, easy maintenance, and aging-in-place features.
Further, patio homes are an attractive choice for those looking to downsize. It is truly our pleasure to share with you these pictures of patio homes we built in Central MN. So, let's get to it. Take a look at the dream custom home shown below that we constructed for some amazing clients of ours.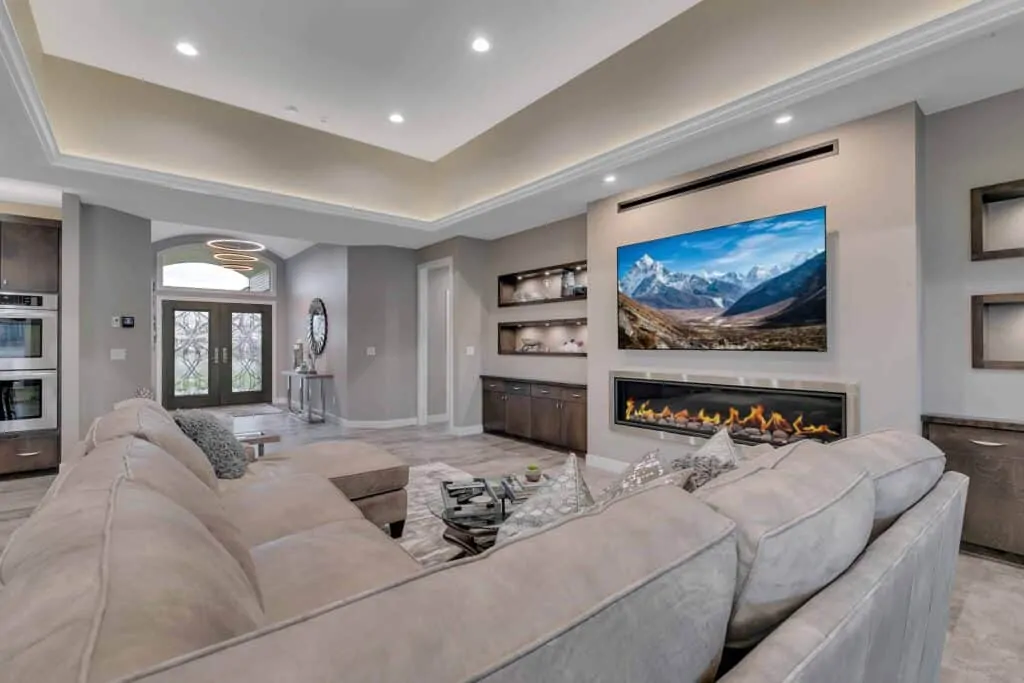 More Patio Home Pictures
Schoenberg Construction also built this beautiful home located in Sartell, MN for some amazing clients. This custom-built patio home is another stunning example of the high-quality construction craftsmanship that General Contractor Craig Schoenberg offers to all of his customers. Of course, he also had some help from his two skilled Master Carpenters (Marty and Chuck) and his many qualified and reliable subcontractors and suppliers.
As you can see in the photos shown above, this custom built patio home has many custom features including custom-built cabinetry, vaulted ceilings, interesting angles, a beautiful patio, a finished garage and even a basketball court in the backyard. There's also a unique, sliding barn door in the master bathroom that was hand-built by Craig's dad, Jerry Schoenberg. He is one very talented woodworker, as you can see. We hope you enjoyed your virtual tour of this lovely Sartell MN Patio home.
If you would like to discuss your new patio home project or any other style of home, we are happy to help.
Building a New Custom Home
When done right home building is a great investment! When done wrong — shoddy workmanship, cheap materials, cutting corners — it is not.
We've all heard horror stories about incompetent contractors and, even worse, contractors who steal people's money. These types of stories just get my goat. In fact, I was shocked, embarrassed and downright angry to find out that, according to the Better Business Bureau of MN/ND, complaints in 2013 against general contractors ranked #6 and construction and remodeling services complaints ranked #5 (up from #7 in 2011).
I always do the job right and treat my customers very well. That's how my dad ran the business when he owned it and that's how he taught me to run it when I took over back in 2006. Because of this honest and fair approach, I operate a top-notch construction business in central MN.
Give me a call today at 320-252-0911 or click here to tell me about your new home building plans. I am happy to help you!
Craig at Schoenberg Construction is one of the best Saint Cloud MN Custom Home Builders. He always gives honest, fair bids with no lowball, fake pricing. There's no sales pressure, EVER! Plus, Craig never uses cheap materials and never engages in sloppy workmanship, and his construction company is known as one of the top ones in the St Cloud MN area because he INSISTS on doing every job EXACTLY right.
Why Work With Schoenberg Construction
What We Value
Honesty
Integrity
Trust
Satisfaction
What We Do
Specific, Accurate Pricing
Highly Skilled Carpenters
Reliable, Skilled, and Valued Subcontractors
Top, Quality Materials
Unbeatable Customer Service
What You Get
75+ Years of Combined Custom Construction Experience
The Project of Your Dreams for the Price You Were Promised
Schoenberg Construction, Inc.
3040 36th Avenue SE
Saint Cloud, MN 56304
320-252-0911
More Custom Home Photo Galleries
Patio Homes Resources