Bathroom Remodelers, Saint Cloud, MN— Homeowners undertaking a bathroom remodel are often overwhelmed by the numerous choices and options available. From the many different types of flooring to water-saving flushing systems, you'll find a wide variety of products for each component of your new bathroom.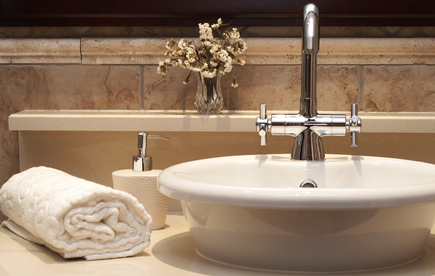 It's a lot to take in at the beginning, particularly if you started thinking about your bathroom remodeling project with a simple dream in mind. If this sounds familiar, you might be better off beginning your bathroom remodel from a place where the choices are easier—the image of your ideal bathroom.
Before you hire a bathroom remodeler or begin selecting specific shower systems or faucets, you need to have a working image of your ultimate goal. In this guide to beginning bathroom remodeling, we'll consider your overall goals and the choices that lead you to them. With an understanding in mind of what you hope to achieve, we'll look at how you can find solutions for your dreams.
Bathroom Remodeling St Cloud MN Tips on Where to Begin
1. Establishing a Goal
Though you might feel pressured to start making choices right away, it's best to take the time to consider your options fully. Sit down with magazines or browse the Internet for inspiration and try to come up with an image of your ideal bathroom. Whether you're hoping to expand the space to include a large bathtub or you're more interested in his-and-hers sinks, it's important to fully exhaust your vision of your new bathroom.
Without worrying about practicality at the beginning, try to determine your ultimate remodeling goal. If you can come up with a few guiding principles behind your decision to remodel, you can use them throughout the project to make specific choices about each component of the bathroom.
2. Finding the Reasons Behind Your Choices
Once you have an idea of what you want to include in your new bathroom, you should start to discern between necessities and desires. Consider how each component fits in with your overall remodeling goals—does a larger bathroom counter create the illusion of more space, or does it allow you to move freely and get ready more quickly in the mornings?
Aim for a balanced approach to your remodeled bathroom that allows you to fulfill items from both your lists of needs and wants. A new bathroom that includes all of the necessities will serve you practically for years to come, while a remodel that incorporates elements of your dreams will bring you plenty of happiness throughout that time.
3. Creating Solutions for Your Dream
Your vision should guide the overall remodeling project before anything else, but practical constraints like budgetary restrictions and the space within your home are important secondary factors. As you move throughout the remodeling process, your Saint Cloud MN general contractor can help you make the best choices for your home. The key to a successful bathroom remodeling project lies in balancing your vision with a concern for affordable, quality products—and the best contractors will do all that they can to turn your dream into a reality that you and your family will enjoy for years to come.
Once you have fully explored these three bath remodel tips, then it is time to begin the process of finding local bathroom remodelers. Getting informed is the best way to make a good choice. Learn more about how to choose a local contractor here.
Craig at Schoenberg Construction is one of the best St Cloud MN Bathroom Remodelers. He always gives honest, fair bids with no lowball, fake pricing and there's no sales pressure, EVER! Craig never uses cheap materials and never engages in sloppy workmanship, and his company is known as one of the top remodeling companies in the Saint Cloud MN area because he INSISTS on doing every job EXACTLY right.
Give him a call today at 320-252-0911 for your no-obligation consultation.