Saint Cloud MN Room Addition Ideas—
A sunroom can be a beautiful addition to any St. Cloud home. A room where the outdoors can be viewed and appreciated, and yet kept separate from the relaxing space you can enjoy every day.
If you are having a little bit of trouble making up your mind about what kind of addition you want to put on your home, consider these arguments for adding a St. Cloud sunroom.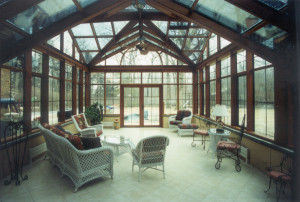 Sun Room Addition Benefits
Soothing Relaxation
The natural themes and decorations that tend to permeate most sunrooms automatically put most people into a calm state of mind. The serenity of such a room, the quiet of shutting out the rest of the house is really a gift that cannot be duplicated easily elsewhere. In a world that seems to crank up the pressure every day, wouldn't it be nice to have a room that made you feel peacefully alive?
Room to Grow
The natural light and warmth that fills a sunroom are two great conditions to promote the growth of smaller, indoor plants. Potted plants and hanging planters are a great way to add to the aforementioned relaxation, and it supplies living art to gaze at. You want to be sure to utilize plants that bloom at different parts of the year. Placing some plants directly outside of the windows is also a good idea, to attract some birds and butterflies for you to watch.
Pleasant Entertaining
People are naturally attracted to the sunroom, making it a great place to sit down and have a quiet tea party, or even for more formal affairs. The natural themes can provide an elegance that makes the room suitable for all occasions.
Extended Living Space
Sometimes it is nice just to have a room that you can get away from all of the other people in the house. For that matter, many people tend to accumulate at least a few chairs or a small table that really don't have any other place in the house. So why not build them a home so they can see some use again?
Equitable Value
Not only do you get to use your new sunroom, but it can actually pay for itself in the home equity you get for the improvement. A more valuable home is always a priority to a homeowner. The investment you wisely put into your home is like saving for the future, if you sell your home far along down the road, you can get your money back and more. Call your St.Cloud general contractor today to find out how to make those dreams come true.
You want to know exactly what you'll get for your money and at Schoenberg Construction we are happy to tell you by offering you specific, accurate pricing that fulfills your vision at a price that works for you. We value honesty, integrity, trust, and customer satisfaction and proudly pass these core values on to every one of our clients.
Craig Schoenberg — owner of Schoenberg Construction, Inc of Saint Cloud MN — is one of the top General Contractors in Central Minnesota. He always gives honest, fair bids with no lowball, fake pricing, and there's no sales pressure, ever! He always uses quality materials and never engages in sloppy workmanship. Plus, his company is known as one of the very best construction and remodeling companies in town.
Give Craig a call today at 320-252-0911 for your no-obligation consultation.