Finishing a Basement Increases Your Home's Value—  Are you looking for an affordable, cost-effective way to increase your home's value? It could be a great time to consider finishing your basement and adding to your property's livable space. Finished basements are one of the most popular features that buyers are looking for, and they will also add to your family's quality of life in the years before you decide to sell. Consider these five important ways that hiring a St. Cloud contractor to finish your family's basement can increase the value of your home.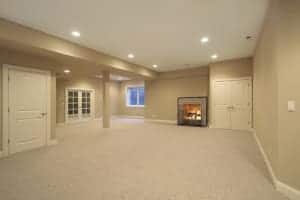 1. Get More Livable Space
Without a doubt, one of the top reasons that homeowners ask us to finish their basements is so that they can enjoy more livable space in their homes. Finished basements are perfect multi-functional rooms. It's easy to use the additional space as a den or second living room or to transform it into a room with a dedicated function like a home office, playroom, or personal gym. If you're tired of tripping over toys in the living room or storing your treadmill in the bedroom, a finished basement could be right for you.
2. Add Appeal to Your Property
Buyers are interested in finished basements, and a beautifully designed space can seal the deal when people are looking at your property. All of the kitchens and empty bedrooms might start to blend together when people are looking at multiple houses, but a spacious and open floor plan in a fully finished basement can really stand out from the crowd.
3. Stay Competitive with Other Homes on the Market
If your home is in a neighborhood where many of the other houses have finished basements, it can also be a good idea to remodel your space simply so that you can keep up with potential buyers' expectations. As more and more families begin to finish their basements, it's more important than ever before for homeowners who want to sell in the near future to think about how they're using this valuable square footage in their homes.
4. Install an Extra Bedroom or Bathroom
With a little extra work (and perhaps the installation of some additional pipes or windows), your basement can easily be transformed into an extra bedroom or bathroom—which can increase the value of your home dramatically. With this one remodeling project, your 3-bedroom, 2-bathroom house can very quickly become a 4-bedroom, 3-bathroom house that is sure to attract more interest from buyers.
5. Address Other Problems at the Same Time
Because your contractor will need to spend some time assessing the insulation in your basement and how waterproof the space is before starting the remodel, this can also be a great time to address other issues with your property. Many homeowners also repair previous water damage or structural issues when they have their basements finished, which prevents them from needing more expensive and troublesome repairs down the line. Finishing your basement and making sure the structure of your home is in good condition at the same time is one of the best ways to ensure your property retains its value and remains a desirable option for potential buyers.
~~~
Are you looking to hire a basement finishing contractor in the St Cloud MN area? If so, you need to know that Craig at Schoenberg Construction is one of the best Home Improvement, Remodeling  and General Contractors in Saint Cloud and Central MN. He always gives honest, fair bids with no lowball, fake pricing. Plus, there's no sales pressure, EVER. Craig and his staff never use cheap materials or engage in sloppy workmanship. Craig is also known as one of the top construction builders in the Saint Cloud Minnesota area because he always insists on doing every job exactly right!
Give him a call today at 320-252-0911 for your no-obligation consultation.