Tips on How to Find the Right Contractor for Your Next Construction Project
Between planning, budgeting, and dealing with workers coming in and out of your home, construction projects can sometimes be a little stressful. That's why it's so important to work with a contractor who is sensitive to your needs and prepared to guide you through each step of the process.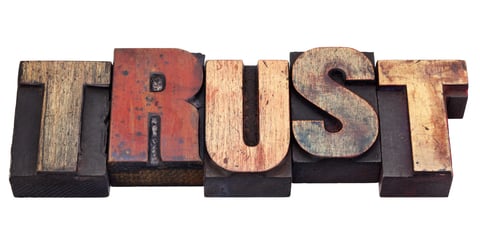 Unfortunately, some companies decide that they're too busy to spend time talking to their customers. They give generic advice to homeowners who have real questions and they don't take your family's needs into consideration. When you need to know what's going on with your project or you have a question about your estimate, it's hard to reach these types of contractors—and it's even harder to get a clear, thorough answer from them.
You deserve better. You deserve a contractor whom you can really count on. And most of all, you deserve a contractor who can show you the four essential elements of trust.
4 Essential Elements of Contractor Trust
and Why They Matter
1. Consistency
Consistency is all about making and keeping regular, reliable routines. Contractors who excel at being consistent will set clear expectations for the project with you right from the start. Whether you're meeting to discuss plans for the next step of the project or you're calling your contractor's office to get an update on the latest work, you'll always know what to expect when you work with a consistent contractor.
2. Honesty
Honesty is one of the most important qualities your contractor should have, and its value cannot be underestimated. When you're working with an honest contractor, he or she will give you clear, correct information throughout each phase of the project. If problems arise, honest contractors are fully willing to acknowledge and own their mistakes—and they'll rectify them in any way possible.
3. Promise-Keeping
Your contractor will make many commitments to you throughout the construction process—but they won't mean very much if he or she is unable to keep them. You shouldn't waste time with contractors who don't keep their word. An unfulfilled promise could end up sending your project over budget or delaying your completion timeline.
4. Reassurance
Trustworthy contractors are also reassuring and willing to go the extra mile to help you navigate the construction process. You'll face many questions and decisions throughout your project, and your contractor is the best person to support you during this time. Find a reassuring contractor who will focus on your satisfaction above all else.
At Schoenberg Construction, we prioritize our customers and take the extra step to make sure you fully understand what's going on with the project before, during, and after its completion. We believe that customers deserve detailed estimates so that they know exactly what they're getting for their investments. Finally—and most importantly—we emphasize communication. You're always welcome to contact us with any questions or concerns, and we'll get ahold of you whenever there's a new update on the work we're doing for your home.
Your home is more than just another project to us. It's the opportunity for us to build a relationship with you founded on these important principles of trust, and we take that commitment seriously. When you choose Schoenberg Construction, your happiness always comes first.
Craig at Schoenberg Construction is a top Home Remodeling Contractor in St Cloud and Central Minnesota.
Finding the Right Contractor Links & Resources
Why Work With Schoenberg Construction
What We Value
Honesty
Integrity
Trust
Satisfaction
What We Do
Specific, Accurate Pricing
Highly Skilled Carpenters
Reliable, Skilled, and Valued Subcontractors
Top, Quality Materials
Unbeatable Customer Service
What You Get
75+ Years of Combined Custom Construction Experience
The Project of Your Dreams for the Price You Were Promised
Craig Schoenberg — owner of Schoenberg Construction, Inc of Saint Cloud MN — is one of the best Custom New Home, Light Commerical, and Home Remodeling Contractors in St Cloud and Central Minnesota.
You want to know exactly what you will get for your money, and Craig is happy to do so by offering you specific, accurate pricing that fulfills your vision at a price that works for you.He values honesty, integrity, trust, and customer satisfaction and proudly passes these core values on to every one of his clients.
He always gives honest, fair bids with no lowball, fake pricing, and there's no sales pressure, ever! He always uses quality materials and never engages in sloppy workmanship. Plus, his company is known as one of the very best construction and remodeling companies in town.
Start building your dreams today—call Craig Schoenberg at 320-252-0911 or send him an email.