Kitchen lighting fixtures are exciting home design elements for St Cloud MN Homeowners to shop for when remodeling their home.
These days, lighting manufacturers offer a vast selection of under cabinet lighting, work-area lamps and hardwired overhead lights that are made in styles to suit every type of taste and style. It is possible to find reproduced antique lamps, ultra-modern fixtures and sophisticated chandeliers that match your interior design desires perfectly.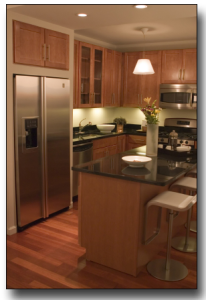 5 Kitchen Lighting Fixture Options for
Your St Cloud Home
Let's explore a few of the most exciting kitchen lighting fixture options on the market today.
Kitchen Lighting Fixtures – Under Cabinet Lighting

In many modern kitchens, illuminations are used above cupboards or windows, under the edge of countertops and in other places around the kitchen where design elements are being highlighted. These inexpensive, small highlighting lights are normally sold in sets that are easily hardwired into the main electrical supply for the room. Waterproof under-counter illuminations are available as well. Under cabinet lighting is a great way to add distinction and style to your kitchen.
Kitchen Lighting Fixtures – Workspace Lighting
Kitchen islands, peninsula counters, and freestanding workspaces are areas that often use some form of hanging lights. Single-bulb loft lights or pendant lights often measure about 6-inches across at their widest point. Long hanging single-bulb lights allow consumers to choose how each lighting unit will be placed over their work-counter. Pendant-bulbs are also available in hanging units that contain three or more 100w lights.
Kitchen Lighting Fixtures – Dining Area Lighting
The fanciest light fixtures are often called chandeliers. These single-tier and multiple-tiered hanging lamps come in many different styles and price ranges. A popular type of hanging light includes multiple glass shades that are placed over bulbs that can be substituted with bulbs that appear to be candle flames. Candle chandeliers, twinkling tower chandeliers, and rustic bowl-shade lights are always fashionable.
Kitchen Lighting Fixtures – Overhead Kitchen Light Fixtures
Lighting choices for the main food preparation area in your kitchen should be chosen in models that will provide high-quality illumination around the work area. There are many options for you to consider as the main source of lighting in your kitchen. Know that the perfect overhead kitchen light fixture may be a classic or fancy design, but generally overhead lighting in rooms where cooking is done should always be easy-to-clean.
Kitchen Lighting Fixtures – Metal Finishes
The metal parts on lamps are normally chosen in a finish that harmonizes nicely with other elements in the room. Glittering silver chrome, warm golden brass, sturdy black cast iron, and the new oil-rubbed bronze metal finishes are very popular choices that will fit into most modern kitchen designs.
While most people understand what chrome, brass and cast iron look like, people are often confused about the new oil-rubbed bronze metal lamp fixture options. This metal normally includes a copper base-metal that is recreated through a chemical process to imitate the beautiful antique bronze finishes that are available on museum pieces. Visually, this new bronze finish holds the tones of a gently glowing chocolate bar.
Kitchen Lighting Fixtures Costs and Article Summary
Due to modern manufacturing techniques, there are beautiful lighting choices available in all price ranges. Very sturdy long-life lamps with elegant glass shades are available at very reasonable costs.
When homeowners in central MN decide to remodel their kitchens, it is wise to choose your lighting styles early so that they can be hardwired into the electric system by your favorite electrician while s/he is hooking-up your new electrical appliances. There are many wonderful bargains available today in the kitchen light fixture catalogs and at your favorite local remodeling or interior design stores.
~~~
Kitchen remodeling choices – from light fixtures to cabinets to flooring – are a concern for St Cloud, MN homeowners. A quality Saint Cloud General Contractor is always willing to help you make the best choices for your remodeling project and to help you stay on budget yet achieve the results you dream of.
Craig at Schoenberg Construction is one of the best remodelers in Central Minnesota. Give him a call today at 320-252-0911 for your no-obligation kitchen remodeling consultation.
Why Work With Schoenberg Construction
What We Value
Honesty
Integrity
Trust
Satisfaction
What We Do
Specific, Accurate Pricing
Highly Skilled Carpenters
Reliable, Skilled, and Valued Subcontractors
Top, Quality Materials
Unbeatable Customer Service
What You Get
75+ Years of Combined Custom Construction Experience
The Project of Your Dreams for the Price You Were Promised