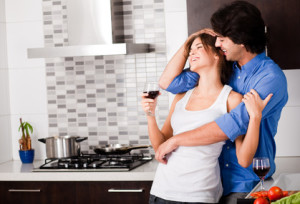 Kitchen renovation cost in Saint Cloud, MN— The mere thought of kitchen renovation costs alone gives fever and worries to most people, especially those who are dreaming of a new and wonderful kitchen but are concerned about the total costs. Yet the thing is, renovating the kitchen without breaking one's budget is entirely possible!
To ensure that your kitchen renovation cost is within your budget, there are some tips all homeowners must follow in order to keep the costs at bay.
The following kitchen remodeling tips will surely help you to save up on your kitchen renovation expenses and make wiser, more cost effective choices. So without further ado, here are 9 tips on how to control the kitchen renovation costs for your home remodeling project.
Kitchen Renovation Cost Tip #1
Maintain the locations of the major appliances — stove, dishwasher, refrigerator — and utilities (i.e. gas) and other services such as plumbing and electrical outlets since moving wiring, jacks and plumbing tends to cost a lot. The truth of the matter is that this single factor costs more than most people realize. This isn't to say that you can not change the location of your stove. To the contrary, just be certain that moving the stove is an essential component to your kitchen renovation project.
Tip #2
Be careful when re-using electrical appliances, as these things are sensitive to transfers. To save on cost, consider keeping your current ones in their old position (as discussed in tip #1) and building the new cabinets around them. Of course there comes a time when appliance replacement is essential.  Consider both new appliances as well as lightly used ones. If this is the right choice for you, it is a great way to save some money!
Tip #3
Choose your cabinets wisely as the choice of cabinets adds a substantial amount of money to the total of a kitchen renovation cost. Because of this, you'll want to dedicate a good amount of time to your decision making process as you consider the best kitchen cabinet choice for your new kitchen. Ask yourself: Do you really need to replace the cabinets? Could you reuse them, or reuse some of the kitchen cabinets? Is there a home recycling center in your area that might just have some used cabinets that are perfect for your kitchen renovation project?
If you decide that new cabinets are essential for your new kitchen, we suggest that you get advice from your central MN general contractor as to the best cabinet builder for you to use.
Tip #4
Invest in neutral colors. It is highly advisable to use neutral colors for the appliances, fixtures and laminates since they tend to be priced better. PLUS neutral colors go with any color-theme of the kitchen.  (It is much easier to change a color scheme through paint and decorations than with all new appliances, fixtures or flooring!) Besides, neutral colors are also classics, which do not become outdated even when styles change.
Tip #5
When it comes to faucets, chrome is cheaper. In addition, a faucet with two handles tend to cost less than those with a single handle. Also, make sure that the faucet has internal parts that are replaceable so that if the faucet malfunctions you have the option of getting it repaired rather than replacing the entire thing.
Tip #6
Save on the flooring. If the flooring is still good, just keep it. Additionally, choosing a nice floor covering to enhance your current flooring is a great money-saving idea! For instance, getting the right color and kind of area rug to enhance your existing kitchen flooring can pull the whole kitchen theme together.
Tip #7
Instead of using tile for your kitchen backsplash, one can save up more by using stencils on it. Again, the point here is to consider your options and to really determine the best choice in terms of your wants, needs and budget.
Tip #8
Consider the lighting fixtures wisely. If the whole kitchen's theme is to be replaced, start with being practical when choosing light fixtures and from there graduate to custom ones. The difference in price will be somewhat painful, but that's ok. It is the price increase that will ensure that you think through your choices thoroughly.  It is also clever to compare prices from one kitchen fixture provider to another. The internet is very useful in this regard.
Tip #9
Countertops that are laminated are much more budget-friendly as compared to tile, granite and solid surfacing. There are some beautiful laminate kitchen countertop options out there.  To save money you should at least consider them.
These tips and tricks on kitchen remodeling if taken seriously will really help you to save on the bottom line of your kitchen remodeling project. Always remember that choosing the cheaper option doesn't mean that the outcome decreases the "wow-factor" of the kitchen. In fact, saving on your kitchen renovation cost often astounds a homeowner – that spending less but getting more is possible!
~~~
Craig at Schoenberg Construction is one of the best Kitchen Renovation experts in St Cloud. Craig always gives honest, fair bids with no lowball, fake pricing, plus there's no sales pressure, EVER.  He never uses cheap materials and never engages in sloppy workmanship, and his company is known as one of the top home renovation companies in the Saint Cloud Minnesota area because he INSISTS on doing every job EXACTLY right!
Give him a call today at 320-252-0911 for your no-obligation consultation.