Explore this beautiful custom home finished by Home Builder, Craig Schoenberg, owner of Schoenberg Construction, Inc.— This custom home located in Clearwater, MN is a fine example of the quality craftsmanship Schoenberg Construction delivers to our customers. The homeowner is thrilled with the final result of his custom built home, and so are we. We are sure you agree that this is one truly awesome home.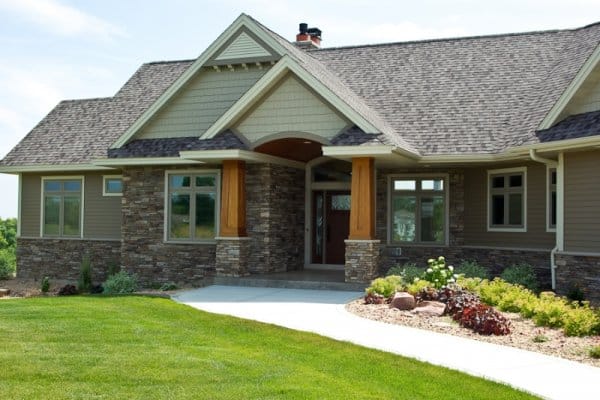 Click on an image below for a closer look!

Custom Built Home with Your Local, Established, and Trusted Saint Cloud MN Builder
Though you can find general floor plans for your custom home online, it's important to work with a professional contractor to fine-tune the details. Building a custom home requires a partnership between the homeowner and the contractor. Your contractor will work closely alongside you to make sure that your finished home suits your needs and matches your family's lifestyle.
The experience of building a custom home should be rewarding for everyone involved—and when your home is finished, you'll have the support and peace of mind that comes from working with a reliable, knowledgeable contractor.
Moreover, a professional St Cloud MN general contractor can also help you find ways to save money so that the custom home still fits within your budget. Working with a top-quality custom builder also offers you the following benefits:
Create a Floor Plan that Suits Your Family
Deliver Professional Service
Perform Quality Work
Help You Stick to Your Budget while Building Your Dream Home
Ultimately, your St Cloud MN General Contractor should be your first resource for any questions or concerns you have during the home construction process. The very best custom home builders in St Cloud have years of experience in new construction projects, so they can help you find solutions that are appropriate for your family's needs. In many cases, you'll be working closely with your contractor for roughly eight to nine months, from the planning stage to the final project completion. That's why it is essential for you to work with a contractor you really trust to build the home of your dreams.
Links to Pictures of Custom Homes Built by Schoenberg Construction:
You want to know exactly what you'll get for your money and at Schoenberg Construction we are happy to tell you by offering you specific, accurate pricing that fulfills your vision at a price that works for you. We value honesty, integrity, trust, and customer satisfaction and proudly pass these core values on to every one of our clients.
Are you looking to hire a custom home builder in the St Cloud MN area? If so, you need to know that Craig Schoenberg — owner of Schoenberg Construction, Inc of Saint Cloud MN — is one of the best Builders and General Contractors in Central MN. He always gives honest, fair bids with no lowball, fake pricing, and there's no sales pressure, ever! He always uses quality materials and never engages in sloppy workmanship. Plus, his company is known as one of the very best construction and remodeling companies in town.
Give Craig a call today at 320-252-0911 for your no-obligation consultation.
Why Work With Schoenberg Construction
What We Value
Honesty
Integrity
Trust
Satisfaction
What We Do
Specific, Accurate Pricing
Highly Skilled Carpenters
Reliable, Skilled, and Valued Subcontractors
Top, Quality Materials
Unbeatable Customer Service
What You Get
75+ Years of Combined Custom Construction Experience
The Project of Your Dreams for the Price You Were Promised
Schoenberg Construction, Inc.
3040 36th Avenue SE
Saint Cloud, MN 56304
320-252-0911