Five Kitchen Cabinet Ideas to Maximize Storage and Efficiency in Your Home

Updating your kitchen cabinets is one of the easiest and most effective ways to completely transform both the function and look of your kitchen at the same time. However, with the wide array of options available, it's important to choose your new cabinets wisely. Consider these unique kitchen cabinet ideas to maximize your home's storage and efficiency.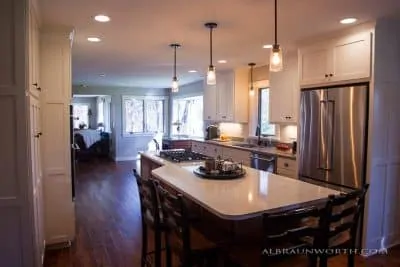 1. Non-Traditional Doors and Drawers

The Concept: Shoot for effortless style and simple function with pocket or sliding doors and automatic drawers.
The Top Benefit: These unique cabinetry options set your kitchen apart from every other home on the block—and they make your cooking process a little more seamless. Pocket and sliding doors easily hide away so that you can leave your cabinets open while you cook without large doors getting in your way. Automatic drawers can also be pushed gently open and closed with your arm or hip when you're in a hurry and your hands are full.
2. Built-In Island Storage

The Concept: Add extra cabinets and drawers to your island to make sure you're utilizing the space to its full potential.
The Top Benefit: An island with a solid bottom and no built-in storage is wasted space. You can easily add extra storage to keep pots and pans, utensils, and other items handy while you're prepping meals—and to free up some of your other cabinets for dishes, glassware, and food.
3. Open Shelving

The Concept: Maximize empty wall space with open shelving.
The Top Benefit: Have an empty wall where an extra cabinet won't fit? You may be able to get some extra storage space by adding open shelving! Open shelves are a great place to store dishes, glassware, and ceramic goods that may not fit into your other cabinets. This modernized design is a clean solution to storage problems that also doubles as a decorative touch.
4. Kitchen Hutch

The Concept: Break up boring cabinets and get extra storage with a beautiful kitchen hutch display.
The Top Benefit: A kitchen hutch with glass doors is an aesthetically pleasing and totally functional way to store special dishes, cookbooks, or glasses and barware. The hutch adds personality to your kitchen and can keep cabinetry from feeling too heavy, while also offering plenty of extra storage space.
5. Custom Cabinets

The Concept: Get cabinets that perfectly suit your cooking style and your family's lifestyle with a custom build.
The Top Benefit: Though there are all sorts of pre-made options to choose from, there's no better way to get cabinets that meet your exact needs than by commissioning a custom build. With custom kitchen cabinets, you can choose the specific layout and sizes of each drawer, shelf, and compartment—as well as where they're located. Custom cabinets make it easy for you to store everything you need and for every item in your kitchen to have its own special place.
Contact us today if you'd like to learn more about these design options or if you need more personalized kitchen cabinet ideas for your home. We're always happy to work with our clients to design unique cabinetry that suits your cooking style and your family's needs!
Links & Resources