Tips for Hiring the Right Contractor – As a professional contractor who focuses on customer service, Craig Schoenberg always takes time to address the concerns of his potential clients, including the top five common concerns facing homeowners addressed below.
Even if you choose to work with another contractor, we hope that you won't work with someone who doesn't help you navigate these important questions. We hate seeing homeowners get burned by dishonest, inexperienced contractors, so we're happy to provide the advice you need to make an informed decision.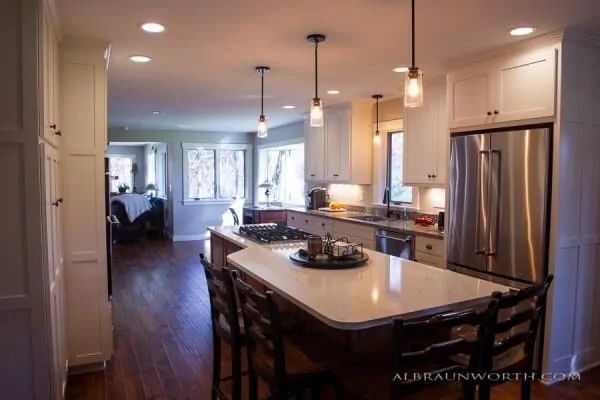 Top 5 Concerns Homeowners Face When
Hiring a Contractor
1. Will I hire a crook?
It's a horror story we've all heard too many times: An honest, hardworking family hires a contractor to renovate their home. Everything seems fine at first—but then, the project is delayed by several weeks and the contractor keeps changing the price as the project progresses. What a shock to find out the work that was going to cost $25,000 to complete is expected to take $42,000.
To avoid hiring a crook, look for a contractor who has a portfolio of satisfied customers. Choose the contractor who is willing to discuss costs, materials, and the timeline with you in detail before getting started.
2. Are there "hidden costs" I need to worry about?
So, you've gotten estimates from several potential contractors—but what does all of that information really mean? Are all of the components included? Is the estimate based on materials of the quality you want? Did the contractor include all labor and subcontractors costs in the proposal?
Before agreeing to a contractor's bid, have him or her explain it to you thoroughly so that you can be sure you know exactly what you're getting for your money. You can avoid hidden costs by making sure everything is accounted for upfront and by working with a contractor who is clear about what is and isn't included.
3. What if I still don't end up with what I want, even after spending all that time and money?
You're entrusting your contractor with your home when you start a construction project, and you might worry that the finished work won't turn out like you imagined. It's a reasonable concern—and it's one that your contractor should take very seriously.
Choose a contractor who provides a detailed estimate and plan for your project in order to eliminate as many unpleasant surprises as possible. You should only work with a contractor who is willing to sit down with you and discuss your needs and wants thoroughly in order to deliver the project of your dreams.
4. Will the remodeling/building process disrupt my entire life?
Construction isn't necessarily a tidy or unobtrusive field, and you should expect to change your normal routine over the duration of the project. Whether you're remodeling the kitchen or updating your master bathroom, you won't be able to continue using the room in the same way you normally do.
In order to disrupt your life as little as possible, a great contractor will give you a clear estimate of the time the project should take to complete—and then he or she will stick to it. The contractor should also help you figure out alternate arrangements that you can use throughout the project. Finally, remember that while you may go through a few less than ideal weeks or months of construction work in your home, you'll be able to enjoy the results of the project for many years to come.
5. Will I lose control of my home or my finances during the construction process?
Most homeowners are looking for reassurance before they begin major home construction projects. They want to know that the project's cost or scale won't get too far out of hand and that they'll end up with the results they set out to achieve.
While some contractors might be out to swindle their customers by raising prices or underbidding projects, a trustworthy contractor will always be totally honest with you and make sure you're informed and connected during each step of the process.
Craig at Schoenberg Construction is one of the best General Contractors in St Cloud. Craig always gives honest, fair bids with no lowball, fake pricing. There's no sales pressure, EVER! And, he never uses cheap materials and never engages in sloppy workmanship, and his company is known as one of the top Home Improvement Service providers in the Saint Cloud Minnesota area because he INSISTS on doing every job EXACTLY right!
Give him a call today at 320-252-0911 for your no-obligation consultation.